Childhood Shorts – Chapter 1: Laugh Myself Stupid
Ever laugh so hard you cannot breathe?
It is a strange sort of sensation. Like a wave of exhilaration suddenly crashing against a sandbank of anxiety. Imagine you are clocking 160 miles per hour on a rural stretch of the German Autobahn. In your dream car, a Bugatti perhaps. There is nothing but open road and blue sky ahead of you. So, you floor it. You pick up speed. The landscape outside becomes a rushing blur of racing, rolling vignettes. Your grip on the steering wheel intensifies, and your eyes bulge bright and wide. You love it, and you find the entire experience intensely fulfilling. This silver lining has a dark cloud, however. For, just as your grin starts to reach Cheshire cat proportions, you abruptly discover that the brakes on your Bugatti are beginning to fail. Well, there you go. Wave, meet sandbank. That paradox of emotion? That mixture between reckless abandon and desperate apprehension? That is what it feels like when you snicker until you almost suffocate.
What would you do in this position? Take your foot off the gas to slow down the car, or put pedal to the metal regardless? Calm yourself down to avoid asphyxiation, or press into the humor of it all and chuckle until you choke? If you are anything like me, two diametrically opposed instincts will vie to influence your decision. They will rise up, faceoff, and fight to sway your conscience. Your carefree side, the one that fully embraces almost any daffy dance between delight and danger, may insist you keep pushing the envelope. But your prudent side, the one that is uncompromisingly committed to self-preservation, may seriously caution you not to let things go too far.
I cannot speak to your experiences or the choices you might make. But laughter has made me bawl until I am breathless or hoot until I am helpless many more times than I care to admit. Sometimes the funnies catch me unawares, like a Gatorade shower over the shoulders of an NFL coach about to win the Super Bowl. Other times, they build up gradually, as a food coma does after a delicious yet decadent meal. Personally, I prefer the latter. If I am going to giggle until I gasp, I would rather work up to it than be surprised. That may explain why many of my most memorable sidesplitting moments have come while watching movies or shows with great comedic arcs.
Give me humorous premise, a solid plot, and a classy delivery by hall-of-fame funnymen any day. Should they draw me in and capture my attention, it is definitely a done deal. In very short order I will cheerfully deconstruct into a muttering mass of human disfunction. It is inevitable, like the sunrise. It has been so since I was a child.
It usually starts innocuously for me. Something in the movie tickles my fancy early on and I begin to react a little. I do so in a dignified manner, of course, as if I am channeling an inner Englishman.
"Ho, ho! Good show. What a twitter, old boy."
If the script is well-written, the saga will soon find its footing. The plot will gradually make overtures in the form of well-placed, low-hanging gags. Whenever that happens, I have been known to let out an impromptu guffaw or two. I am told by loved ones that it can sometimes sound like a donkey trying to clear its throat. The sad truth is, I am a sucker for slapstick. It is my kryptonite. There is simply nowhere to hide if ever the tides of tomfoolery task themselves against me. Coordinated horseplay action and one-two punchline sets? Those are my undoing. They go directly to the body on me, each with increasing force and mounting hilarity. They move me masterfully from trickles of tittering to channels of chortling. These streams often threaten to burst through the floodgates of my capacity for self-control. It is only out of self-respect that I am able to muster up the pretense of a struggle. My resistance typically involves pursing my lips, shaking my head, and desperately trying to think unfunny thoughts. As a last resort, I may even wag my index finger back and forth at the screen with a fervor that would make Dikembe Mutombo proud. Aiwa bodo! (Not a chance!) You will not make a Chuckling Charlie out of me today!
Yet, comedy is a conniving counterpart. A tickling temptress capable of cajoling a smile and raising a toot, even from among the most stoic of human beings. In my case, it is surprisingly simple for a good joke to smack me sapless with its silliness.
What follows is my complete dismantlement. In a fatefully involuntary moment, I will doubtlessly let out a deep, resounding, and most unbecoming, yet highly liberating nasal snort. Game over. It is a full throttled, fast-throated giggle fest from then on, with no apologies. I cackle as if the only letter in the alphabet I know is "K." My expressions contort in unflattering ways as well, as though face yoga is an Olympic sport and I am in heavy training. My laughter can get so animated that my whole body – head, shoulders, knees, and toes – may all too often co-conspire. As they do, I confess, I typically abandon all decorum. It is not pretty. Under the right conditions, I may even find myself riding my sofa like a prize bull at the rodeo. Dignity be damned.
Unscheduled workouts such as this can be awfully exhausting. It is not unusual for me to get a stitch in my side and a complementary burning feeling in the bottom of my lungs. I am even sure that my nose and mouth have at times gotten confused about who is supposed to be doing what.
"You inhale, and I'll exhale. Got it?"
"Yes, I'll exhale, and you inhale."
"No, you inhale! I said, I'll exhale!"
"Right, go ahead and inhale!"
"Ah, smoke. We're going to kill him."
As a child, the fear of my respiratory system suddenly becoming discombobulated would frequently send me into a momentary panic. It would have me look around frantically in hopes of catching the attention of some would-be rescuer. A futile quest, really. The only other person regularly in the TV room with me would be my younger brother, Bongai. The trouble was, he almost certainly would have already succumbed to the same dilapidated state as me. If so, there would be no backing down and no rescue from this revelry. The solitary course of action available to us would be to lock eyes, escalate our giggling, and wait to see which one of us would black out first. Pedal to the metal. Bugatti without brakes. A win for the carefree side.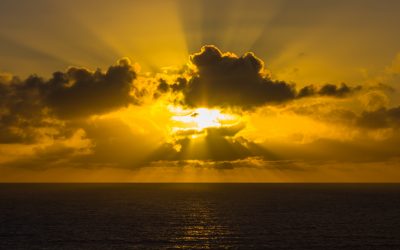 Aside from the title, any writing assignment we did at St. George's College required inclusion of the date and the initialism A.M.D.G. (abbreviation for Ad Majorem Dei Gloriam). The latter was a reminder for us boys. A prompt to help us put into practice a foundational principle of our school community.