Asterix was by far my favorite hero. A shrewd, crafty, defiant, and plucky little warrior, living in about 50BC. In the stories, Gaul, his homeland, is occupied by the Romans, except for one small village where he lives. Asterix' best friend is Obelix, a menhir delivery man with a childish way about him. Their community includes among others, Vitalstatistix the chief, and Getafix the druid, and Cacafonix the bard, whose music everyone hates. This group of Gauls enjoys the secret advantage of being powered by a magic potion brewed by Getafix. It gives Asterix, Obelix, and the others superhuman strength. It enables them to make silly putty of the Romans whenever they face them in combat. It is to Caesar's chagrin and Rome's disgrace that this village remains undefeated. Indeed, in all of Gaul, this enclave is the last bastion of freedom.To Asterix and the Gauls, the Romans are crazy. Both a formidable conquering force, and a nation of ham-fisted halfwits.
Now, Bongai and I were not aware of any Zimbabwean 'magic potion'. But the euphoria of independence was intoxicating, almost to the point of making us feel indefatigable. Almost.
"Did you just call me 'boy?'" I felt my shoulders suddenly tense up.
"Yes, boy. Come here, we need a fourth player for our game."
"Don't call me 'boy.'" My thumbs were locked tightly over my balled up fingers.
"Why not? You are a boy, aren't you?"
"You know what I mean." .
"But you're not a girl, are you?"
"You don't call them, 'boy.'" I pointed at the other kids who looked like him.
"I know their names, Mubuso."
"You just said my name. So, clearly you know who I am too."
"You're right," he said smiling. "I did, didn't I? His eyes were dancing, like a fighter in a ring after a sudden knockout, uppercut punch.
I remembered that I had felt this way before. It was weeks earlier, when a couple of new friends and I had decided to ride our bicycles to a local ice cream shop. We poured our sweaty bodies into the store. We made a beeline for the counter. One after the other, we panted out our orders to the server. The old sekuru (grandfather) on shift looked up and smiled. He was thrilled to see three young black boys come into the shop with a mind to make a purchase.
"Welcome vazukuru (grandchildren)! I'll be just a minute with your wishes."
The old man turned around and shuttled his ancient bones to the freezer units. There he began to scoop into cups and cones a few delicious dollops of ice cream in the flavors we had requested. At that very moment, however, a lady walked into the shop and stood in line behind us. As he heard the door open and swing back shut, the old man pivoted his frame, oriented himself, and locked eyes with the lady.
"Good afternoon, madam. How can I help you?"
"Hello, my boy. I'd like two tubs of chocolate ice cream to take home for the kids, and one chocolate and vanilla swirl in a cone, for myself. It's my small treat, you know. I only get a little time alone. I might as well enjoy it."
"Yes, madam. You savor it. Your joy is my pleasure. I'll make your order now."
The three of us stared at the woman. She had on a beautiful hat with a feather in it. She was in her mid-thirties, about half the age of the old man. Her golden skin was quite a contrast to her stringy blonde hair. The ends of her locks were rested upon the shoulder straps of her flowing white dress, which in turn kissed the ground and drooped slightly over her purple or lilac sandals.
We scanned back to the face of the old man. The black skin on his forehead was weathered and cracked. There were several creases that stretched across his cheeks. The sides of his mouth drooped down as if by fatigue. His eyes sat low in the hollowed-out sockets that surrounded them. He was smiling, at least showing his teeth. But his pupils were undeniably sad and subservient.
"There you go, madam."
"Thank you, my boy. That looks yummy." The woman gleamed brightly. She reached into her purse, pulled out a few notes, and made payment for the ice cream she had ordered. "Have a good day."
"You too, madam."
The three of us gawked at each other. We had the same blank expression on our faces.
The old man sighed as he shuffled his feet back to the side of the room where we were standing.
"Ok, vapfana (little boys), what would you like again?"
We were still coming to terms with what had just happened when one of us replied to the old man.
"But weren't we here first, sekuru? How come you served the white lady before us?"
As he began to answer, his eyes brightened. His cheeks also reddened like the hotplates of an electric stove that had suddenly been switched on. He peered at us with glares that flew as fast as daggers, his two eyes rapidly targeting and firing at our confused faces.
"Don't try to be funny. Ndiri mukuru wenyu (I am your elder). Do you want to buy something, or not? Just be quick. Don't waste my time."
The door had a crackly creek as it slowly closed behind us. Our hands were empty as we left the shop and our minds were astonished. There would be no ice cream for us to lick lavishly that day. Instead, our mouths would remain clammy and our tongues would stay dry, silent, and numb. Just like our hearts.
"Teething pains, son." This was daddy's frequent response whenever I relayed to him incidents like these. "Baby teeth must first drop out before the adult ones can grow. The process hurts, but when it ends, childish ways will soon accede to the disciplines of adulthood."
It took me a while to understand what daddy was alluding to. However, as I continued to read the Asterix volumes, connections began to form for me. Asterix, Obelix, and the others are invincible because of magic potion. But in the brilliant way the comic series positions them as underdogs, I realized that magic potion is really just a metaphor for the unflagging spirit of this tiny village of Gauls. They faced varied opponents. Romans, Normans, Pirates, and so on. Even other Gauls. These other 'tribes' either feared, or envied, or simply opposed them. But our heroes – Asterix, Obelix, Vitalstatistix, Getafix, and even Cacafonix, whose music everyone hates – did not seem to care. Except when someone made the mistake of calling Obelix fat. Besiegement and trial did not prevent these Gauls from maintaining their dignity, self-esteem and how. They refused to lose sight of who they were in the face of a belligerent world.
Perhaps Bongai and I had been all too hasty in blaming the British. Maybe us getting volumes or Asterix comics had less to do with British vindictiveness and more to do with basic good fathering. It was one thing for daddy to listen to our wants. Quite another to respond to our needs.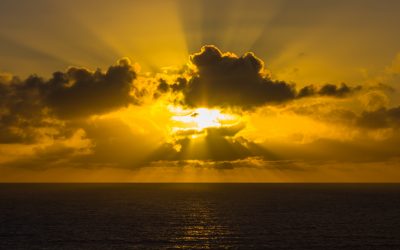 Aside from the title, any writing assignment we did at St. George's College required inclusion of the date and the initialism A.M.D.G. (abbreviation for Ad Majorem Dei Gloriam). The latter was a reminder for us boys. A prompt to help us put into practice a foundational principle of our school community.