Childhood Shorts – Chapter 12: A Race for Relevance
Let go of Superman? Not a Cadbury bar's chance at a chocoholic's convention. Giving him up would essentially be abandoning comics. Losing Superman meant forsaking Clark Kent. Which I was not at all prepared to do. In my mind, it was Clark who made Superman super. Clark is the apprehensive, bumbling nerd. The person everyone underestimates. But that is what makes him great. He is the guy who rises to the occasion and transforms himself whenever the world needs a hero. Clark protects Superman and Kal-El, allowing them to hide in plain sight when necessary. Clark is also the only one with a paying job. The solitary figure bringing home the bacon. The guy bankrolling the whole superhero endeavor. That has got to count for something. Not to mention, Clark is the more nuanced character. The one with the most complicated range of emotions. Which means Clark is also best placed to empathize with insecurity.
There is a fantastic segment in the Superman movie of which I am particularly fond. It comes early in the film when Clark is still a teenager and has yet to assume the mantle of the man of steel. We find him on the sidelines of an American football game, serving as ball boy for his high school team. A girl called Lana comes up to him. She is one of the cheerleaders. It is clear that Clark is attracted to her. To his joy, Lana invites him to join her and some of the other kids who are going to listen to vinyl records after the game.
Enter Brad. He is one of the jocks. He is also the driver of the car that is taking everyone to hang out and play music. Brad lacks respect for Clark. He treats him like a second-class citizen. As they talk, he makes it clear that Clark is not invited to the party. Instead, he demands that Clark stay back to put away all the football gear the jocks have left strewn along the side of the field.
Although she likes Clark, Lana has no choice but to leave with Brad and the others. As they go, Clark looks forlorn and frustrated. He picks up a football, makes sure nobody is watching, and punts it into the stratosphere. He is through being treated differently and evidently tired of hiding his powers.
The next scene is a complete contrast. We see a racing locomotive, and fast approaching next to it is Clark running home. On his face is a look exhilaration. The wind pulses through his hair, and he again enjoys the freedom of expressing his true self. Clark beats the train to the pass. He leaps ahead of it over the intersection. Then he gallops down a dirt path toward the Kent farm. He stops at a sign post. There we see the intent and design of the active chase he gave. Brad pulls up with his carload of cheerleaders on their way to play those records. They see Clark striking a pose, leaning with his arms folded as if waiting for them. Brad and all the others wonder how he got there so quickly. Clark simply tells them that he ran. He says so brandishing a broad beaming smile.
An athlete when he was younger, daddy insisted that we children participate in some form of physical activity. He valued exercise primarily for its contribution to healthy living. He esteemed organized games as an engaging and rewarding pastime for both children and adults. He treasured athletic competition for its power to cultivate the three key attributes of discipline, drive, and determination.
During my kindergarten and elementary school years, daddy encouraged me to attempt a variety of sports. This was easy to do. Life at St. John's Prep. was intentionally designed to shape student athletes. Boys had opportunity to try their hand at all manner of games. I certainly dabbled in many of them. But I found a true sense of calling in the discipline of track and field.
There is something indomitable in the constitution of an athletics track. It starts where it finishes and ends where it begins. The design evokes a consistent condition of continuity. The parallel lanes offer equal opportunity to all runners. The ground is level. The distance is equivalent for everyone. The path is open, clear, and inviting. Outside of hurdles and steeplechase, there are no obstacles or impediments on the track. Each runner is free to run his or her own race. Even when competing against others. That makes track one of life's most fulfilling experiences. Which is exactly why we run.
Our lungs aerate, our hearts pulsate, our limbs accelerate, and our minds navigate the terrain. Ever so determinedly, we strive toward our cherished goals – a speedier dash, a faster time, a better race. Yet, it is a brutish kind of beauty, this acutely temporary chase we make around a perpetual track. Almost as instantaneously as our feet first explode from out behind the starting line, our heaving chests do barrel across the finish. A few brief breaths and the race is done. The stopwatch stops and time resets. The earth turns again, and the world forgets.
All the while, the track remains constant. It endures, and it reliably makes room for new runners. When memories of exploits and spoils and crowds abate like ghosts into the hollow stillness, the track itself persists unconquered. Its circle is a cycle that draws a continual stream of contenders. They come as fervent hearts eagerly desiring to test the rigor of their own condition against the resilience of the interminable course.
For us boys at St. John's Prep., track season was a wonderful time of year. We practiced on Mondays and Wednesdays, and on Saturdays we raced. Our interschool meets began mid-morning and extended through mid-afternoon. It was an inclusive affair as every grade level was given a chance to compete.
Attendees all arrived differently. In cars, in buses, on bikes, on foot. Young athletes would take to the field in a lemming-like procession, full of thrill and anticipation. Escorting us were our parents and spectators, all dressed for the occasion. Men wore short-sleeve shirts and shorts or longer trousers. Their feet in sneakers or Veldskoens. Women dressed according to their tastes, in the fashion of their culture or style. Some were adorned in floral sundresses with summertime bonnets and cosmopolitan footwear. Others were garlanded in traditional wraparound dresses with coordinated headscarves and sandals or Pata Patas on their feet. They all carried with them an assortment of picturesque umbrellas and colorful fans. These were for shade and relief from the intensifying heat of the cresting sun.
The athletes' apparel was far more simplistic. Our shorts were white, and our vests were homochromatic. Our colors – red, orange, yellow, green, and blue – reflected the schools we represented. Those who were not competing came dressed in their school uniforms. As the stands filled up, these students created a bobbing kaleidoscope with all the emblematic banners and floating flags they carried in support of their teams. Their cheers and war cries lifted like sound clouds, rousing spectators and encouraging athletes with predictions and promises of victory.
We typically ran barefooted in those days and usually upon a grass track. The groundsmen were conscientious in tending to the course. Their efforts made the freshly-mowed, dew-drenched grass now compressing, now expanding itself beneath our naked feet become all a pleasure to run upon. It delivered a welcome boon to each stride. As and when each heel and toe made interchangeable communion with the ground, the grass would mercifully absorb the shock of every movement. It would thus preserve the integrity and function of each limb and render the racing round of runners rather glad.
My best events were the shorter distances, where my ability to sprint gave me an advantage over some of the other boys. The eruption of the starter's gun would generate a detonation of grass and dust. Runner's feet would instantaneously scurry to get up to speed, up from their poised position of standstill. Mr. McKenzie, our sprinting coach, would remind us to focus on our very first few steps.
"Make sure you plough as much power as you can, hey. Right from your glutes and through your thighs. Down your calves and into your feet. Through your toes and into the ground. Pound, pound, pound, to create as much friction as possible. And drive, and drive, and drive! Pump your arms and pump your legs, as fast, as fast as you can. Left and right and left and right. And keep your head down, keep it down, keep it down. That will get your race to flight.  You'll go, you'll go, you'll go!"
Those several seconds at the start were tumultuous. As the rabble scrambled off the line, each athlete would endeavor to get a shoulder, a head, or even a nose out in front of the pack. It was vital to do so before the race settled into a natural equilibrium of pace and progress and place. As best as we could, each runner would work to accelerate through the finish line if possible. There was no guarantee in an early lead as the other athletes could quickly claw it back. Especially if your stride slowed down. Or your muscles tightened. Or you found yourself hitting the wall. If you discovered your rhythm, however, and were able to flow loose and free, then running could feel like flying on wings, and winning like invincibility.
Mr. Mckenzie demanded that his athletes eat a healthy breakfast each day. I did not consistently do so, and it frustrated him to no end.
"Sir,"
"Yes, my friend."
"I missed breakfast again today."
"Arrgh, why, man, why?"
"I don't know, sir. I'm sorry."
To this day, I have no idea why I did not simply keep my mouth shut. Perhaps, I felt it honorable to tell the truth. Perhaps, in my anxiety, I was seeking sympathy or looking for an excuse should my performance be lackluster during practice on those days. There was more than enough to eat at home. Our parents worked hard, the fridge was full, and our family was solidly middleclass. Yet somedays, given the idiosyncrasies of my own nature, I simply did not have an appetite in the morning. In those instances, I would certainly eat something for breakfast, but not necessarily enough to build up the kind of stamina our coach required of his young athletes.
I should have made a greater investment in my endurance. Unfortunately, my young mind was not yet sufficiently disciplined to do so. Moreover, my brain did not appreciate the nuance that my having breakfast was a matter about more than just eating and running. Also to be considered were the politics of perception. Coach McKenzie did not want the other boys to believe I was any different to them. Actually, thinking back, I am struck by an obvious paradox. I was quick to grasp the social cues of what it meant to be called "boy" by my peers. But, I was slow to understand the stereotypes that are reinforced whenever a black child declares that he does not eat.
Despite my unreliable nutritional habits, I was a top athlete for much of my time at St. John's Prep. Especially in my junior elementary years. That is when I registered grade-level-best times in sprinting and produced impressive leaps in the long jump and triple jump events. Apart from track and field, I also excelled in other sports. My speed came in handy in rugby, for example. The coaches mostly had me play on the wing. They gave me a simple mandate: score tries and chase down opposition speedsters. I was to make our opponents pay if ever they broke through our defenses and made a mad dash for our try line.
It thrilled me to show off my talent. My coaches loved what I could do. My parents and siblings were very proud of my success on the field. Even so, daddy often encouraged me not to hold too tightly to the experience of winning.
"The goal of the athlete is not to win, but to develop," he would argue. "In growth, there is always triumph, but in winning, not always success. Coming first or coming last, that is not the concern. But striving toward the skylines of your potential, well now, that is the worthy pursuit."
I heard him, but I did not understand. On occasion, I felt he was raining on my parade. Winning made me feel special. Like a superhero in some ways, I suppose.
Yet, it was not daddy I should have been concerned about. I should have paid more attention to the cycle of life. What kids do most predictably between the ages of six and twelve is grow. Each year, all my counterparts grew taller, broader, stronger, and faster. We all did. But some of us grew much taller, broader, stronger, and faster than others.
Some became elite sprinters. Others hulked into Jonah Lomu-type machines that terrified everyone on the rugby field. Others still developed such capabilities in their respective sports that it was not a surprise when they later went on to play internationally as men. As for me, my physique and abilities changed as well, but not in ways I had hoped. My frame transmuted into a lankier and less athletic version of itself. I also became more knock-kneed. It was terrible. In fact, the demise of my form quite alarmed the otherwise usually composed Mr. McKenzie.
"What's happening to you? Why are you running like that?" he once cried with his hands to his face.
"Like what, sir?"
"Like a duck. Your legs are wobbling and your arms are flapping about your sides like wings. You're running like a duck. Why? Don't run like a duck, man. Please!"
That was just the beginning. One time, a classmate came out of nowhere and broke my grade-level triple jump record. Just like that. He did it during an arbitrary practice session, and matter-of-factly too. Our whole class erupted with cheers. Except me. How could I be impressed when I was shocked. Where did he learn to jump like that? All I could think of was to ask the coach if there had been some mistake in the measurements. He said everything had been accurate. There was no doubt this was a new school record. A bigger person would have congratulated him. Not me. I hardly acknowledged the new victor. Instead, I went directly to the coach and demanded another chance to jump before our session was over.
He obliged. I traced out my run up, did a few pushups, then stretched my legs and back to loosen up.
"Ready when you are," yelled coach.
I scanned the pit ahead of me, then closed my eyes, and launched into my run up. With every step, I gave myself positive reinforcement. "You can do this. You've got this. You're the best in the grade."
I got to the board. I took my hop. I gave my step. I made my jump. I bounded as forcefully as I could and elevated through the air. Then I landed. Then they measured. It was not even close. I squinted my eyes, gnashed my teeth, and scratched the side of my face. "Uh, can I go again, coach?"
He could see my anguish. "Okay. You can try again."
I did. Several times. Until coach finally called it quits.
"Look, Mubuso. Let's give it a go another day, okay? We've got to move on."
Move on? How exactly did he suppose we do that?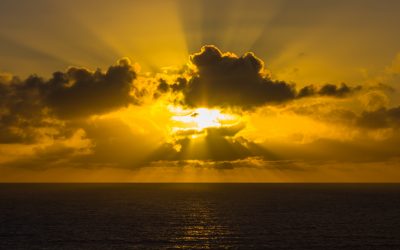 Aside from the title, any writing assignment we did at St. George's College required inclusion of the date and the initialism A.M.D.G. (abbreviation for Ad Majorem Dei Gloriam). The latter was a reminder for us boys. A prompt to help us put into practice a foundational principle of our school community.