Childhood Shorts – Chapter 13: More than Blazer Thin
St. John's Prep. was not just a school. It was and still is an admired institution across Harare and Zimbabwe. The school first opened in 1956 with 13 students. Its initial mission was to provide a "sound system of education in an atmosphere conducive to the growth and development of each personality." By the 1980s, St. John's had the reputation of being the leading boy's preparatory school in Zimbabwe. Since the 1970s, there had been talk about the need for a new boy's secondary school in Salisbury (Harare). The board of governors at St. John's had been actively assessing the idea. While interest was high among families, the country's liberation struggle made it impossible for any progress to be made on the proposition. After independence however the idea was revived. As the official record states:
"Scot Honey was appointed Chairman of a subcommittee charged with overseeing the development of the proposed college. Colin Broadbent, Anthony de la Rue, Stuart Perry, and David Zamchiya came on board and set about finding a suitable site. The 'maize patch' was obviously preferable but it had been zoned as a Government primary school. However, permission was granted for its re-zoning and with a generous donation by a local firm of the land across the road, there was ample space to build our College. By January 1983, a formal application to establish the College was made to the Ministry of Education. David Zamchiya played a crucial role in sensitive discussions, affirming the Government's policy of racial equality and social justice." (St. John's College Website)
The secondary school was approved at the beginning of 1985 and a flurry of activity from architectural planning to fundraising ensued.
"Architects Adams, Jackson, and Moore produced plans for municipal approval; tenders were invited; Ted Sharples was recruited as Headmaster and fundraising started in earnest in April 1985. Tony Knight was appointed Chairman of the fundraising committee, which also consisted of Barney Barnard, Brian Grubb, Scot Honey, Les Johns, Douglas Kadenhe, Gibb Lanpher, Ted Sharples, Tom Taylor, David Vincent, and David Zamchiya." (St. John's College Website)
The local press announced the coming of the new college. The entrance exams were set for a day in July 1985, and the school was scheduled to open in January 1986.
We could not believe it. In 1985, my peers and I were in our final year at the prep school. That meant we would be eligible to enroll into the inaugural grades of the new high school the next year. The opportunity was everything to us. To say we loved our school would be an understatement. As far as we were concerned, the very blood in our veins was as green as the blazers we wore with immense pride. St. John's was for forever and forever St. John's.
It was almost too good to true. My dad, David Zamchiya, was instrumental in making the whole thing happen. Because of him, I would be among those few boys who would shape the future of the school as flagship students. To be certain, this was not merely going to be a school I attended. No. For all intents and purposes, this was going to be my school. I mean, I was basically going to own it. I am sure you are familiar with those movies where a kid walks around campus with a certain air about him. You know, like nobody can touch him? Well, I was going to be that guy. Like Michael J. Fox in Teen Wolf (1985). A second chance at being above average. I think I floated a few inches taller for the rest of 1985. My shoulders were perpetually puffed up. By necessity of course. They had be. To carry the weight of the ballooning that was taking place in my head and in my ego. Best thirteenth year-of-life present ever! Bring it on!
Except that it was not.
"What do you mean I'm not going, daddy? What do you mean?"
I felt dizzy.
"I got in, didn't I?"
I thought I was going to throw up.
"You did get in. But you are not going."
It had to be a joke.
"Daddy . . ."
"I want you to listen to me."
"Ok."
How could I pay attention when my brain was dissolving into a disillusioned puddle of goo?
"Listen, son."
"I am. I'm listening. I am."
"I know how much you want to attend St. John's College."
Do you? Do you really? I angrily glared at him but was careful not to roll my eyes or say a word.
"I do understand, son. I do. You've done so well at the prep school. We are all so proud of you. But it's time for a change."
"But daddy, you've been so involved in developing the school. I don't understand why you don't want me to go."
"I know I've been involved. It's important for Harare to have another private secondary school for boys. But it's also imperative that you go to the school that is best for you."
"St. John's College will be best for me."
"Your mother and I don't agree with you. We hope and pray St. John's College will be an exceptional school, but it's just getting started, and there is another school in Harare that has a solid track record and the best prospects of getting you into a great university."
"You mean, St. George's College."
"Yes."
Who could argue against the credentials of St. George's? The school is as old as mud, founded as it was in 1896. There is therefore a gravitas associated with it that commands a deep degree of respect. The college is known for producing excellent results on O'Level and A'Level examinations. Its graduates easily gain admission to best-in-class universities worldwide. To date, the school has celebrated 36 Rhodes Scholars among its alumni, and countless more successes in business and social development. Indeed, in the boys' private education market of Zimbabwe, St. George's has historically been the undisputed school of choice for many families. Especially, among those whose sons, like me, received their primary education at St. John's Prep.
Details, schmeetails, nevertheless. In my mind, all that was well and good when there was no St. John's secondary school. But things were now changing radically. St. John's College was an emerging reality. It was truly about to open its doors. To receive us. Us, its highly enthusiastic patriots! How could my parents fail to understand the significance of this moment? A green blazer cannot change his heart no more than a leopard can change its spots. I was green in primary school and I wanted to stay green in secondary. After all, school loyalty is more than just blazer thin.
"Well, I don't agree with you and mommy, daddy. What about my friends?"
"Son, that's the other thing."
"I don't follow."
"Your mother and I also want you to experience a diversity of friendships."
"I do have a diversity of friends. What about Gabs and Ross?"
"Yes, you have them, but what I am saying is we want you to have friends with more ethnic diversity."
"What are you talking about? I just pointed them out. I'm black and they are white. That's diversity."
"No, I mean, look around, almost all your friends are white, Mubuso."
"What? No, they are not. What about Farai and Musa?"
"Yes, but they are exceptions. You have them as friends because their dads and I have been together since youth. From when you guys were little, we made sure to find ways for you to build connections and become allies. Look, mommy and I think it will be important for you to have more black friends as you grow to become an adult. It's not your fault. We sent you to St. John's, which was a predominantly white school. We did so because it was the best primary school for boys, period. We wanted you to have the best possible education. It was not about black or white for us then, and it is not about black and white now. We are simply making the decision to enroll you in the leading secondary school for boys. And that happens to be St. George's. As providence would have it, however, St. George's also has greater diversity in its student body than any other school in town at present. We see that as a bonus, an opportunity for you to enjoy a deeper cultural experience than you would elsewhere."
"St. John's could end up being diverse."
"I'm sure it will be. Another point though is that we want you to have older boys to look up to. If you were to go to St. John's College, there would be nobody ahead of you, as you would be the inaugural class. At St. George's, however, you will have five whole grades of older boys you can interact with. Imagine everything you will learn from them."
Yeah, like how to be bullied, I thought.
"The older black boys, in particular, beyond what you absorb from us at home, will ensure you cultivate deeper roots and stronger social moorings as a Zimbabwean. Look around, son. It's majority rule now and you are a part of it. For at least one stretch of your academic life, won't it be refreshing to be able to get a high-quality education without having to be a minority in the classroom? Be encouraged, son. Should you end up going to England for university, as I did, I believe you will look back on this pitstop at St. George's and view it as a critical building block in the life God is creating for you. Indeed, you may doubt this decision. But do have faith in the providence of the Lord and in the wisdom of your parents. For every new birth involves distress. Even as a child leaves the safety of the womb, there is pain as he transitions into the unimagined world."
"What if I promise to make black friends at St. John's?"
Daddy did not respond. His expression underscored the finality of a decision that had already been made. No amount of groveling would in any way change my fate. I had no choice but to tuck my tail and retreat to my room. It was the one place I could sit and sulk, suck on ice cream, and stroke the bruised ego of my crushed hopes, without interruption.
"They'll see," I scoffed. "I'll grow up to be a culturally-aware, academically-rounded individual who has great prospects for university. But I won't like any of it. That'll teach them."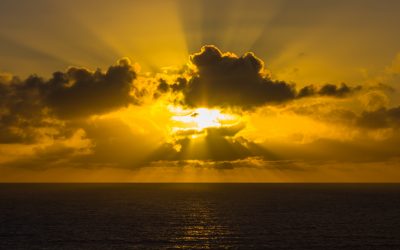 Aside from the title, any writing assignment we did at St. George's College required inclusion of the date and the initialism A.M.D.G. (abbreviation for Ad Majorem Dei Gloriam). The latter was a reminder for us boys. A prompt to help us put into practice a foundational principle of our school community.