Childhood Shorts – Chapter 14: Red Blazer Nation
I believe I cried on the first day of school at St. George's. Possibly the second day too. I was overwhelmed and rather intimidated. The college is a sprawling empire of a campus, with fields that stretch out like interlocking plantations. It has courts, and pools, and classrooms, and dorms. They give the impression that there is all of a kingdom enclosed within the acreage of its land. Set upon a hill, St. George's rests beside the national State House. Its castle-style architecture makes it a fitting counterpart to the austere abode with which it shares a thoroughfare. Lofted above the administrative wing, the flag of St. George, that great emblem of red-blazer nationhood, fans itself flowingly at full mast each day. Every ripple is a reminder of the reach of its realm, and the reign of its radiant reputation.
The school has a distinguishing Grant of Arms, a creation of the Royal College of Heralds. There are three symbolic elements in its design. They reflect the pedagogy, the place, and the purpose of the school. As well as traits by which its students should be known. The first element is a depiction of two black wolves. They are raised up on hind legs with their front paws resting on a black cauldron between them. This represents the Jesuit anchoring of the school. A call-back to the Society of Jesus, which was founded by St. Ignatius Loyola. "Loyola" being a contraction of two Basque words. "Loy" meaning wolf, and "olla" meaning cauldron. The second symbol on the Grant of Arms is that of two golden roses which signify place. In Greek, the word for rose is "Rhoden," which in a play on words is meant to reflect Rhodesia (now Zimbabwe). The third emblem is a hat tip to St. George himself. It captures the essence of the purpose of the school. His red-cross banner sits between two roses. Above them is gathered the crown of a king. It contains a sword with its hilt facing upwards. Its downwards blade is lodged between the two wings of a dragon as if to reflect the defeat of the leviathan. This visual metaphor denotes the triumph of good over evil. It also celebrates the redemption of mankind by the finished work of Jesus Christ on the cross. The message this conveys is that St. George's boys are to be men for others. They are to live and work and bloom wherever they are planted and do all things to the greater glory of God.
As a suitable summation of this compelling crest, there sits at the base the Latin phrase, "Ex Fide Fiducia." In English it means, "from faith comes confidence."
Even with my green-blazer leanings, I could not think of a more enthralling call to action. The Grant of Arms at St. George's College compels the heart and mind upwards. It is designed to harness the ambitions of its young men. To steer them, firstly toward the career of learning, secondly toward the campaign of manhood, and thirdly toward the cause of love. There is no mystery as to why my parents became so enamored by the school. The greatness of its appeal was self-evident.
Still, red blazers were not as special green blazers. At least not then. Any enthrallment I might have had on day one at St. George's was buried at the bottom of my basket of troubled anxieties and concerns. They twisted my guts like barbed wire and made me feel nauseous and out of place. I had neither faith in the decision to enroll, nor confidence that I should thrive at the school. It helped a little that I was not the only youngster experiencing cold feet in those initial few days. But the large majority of other incoming students somehow managed to get themselves off to a great start.
As Exhibit A, I give you Adrian Morton. A former green blazer, like me, except with one crucial difference. Even as a thirteen-year-old, Adrian connected with everybody as if he was the mayor. A nod, a wink, and a high-five was all it took for him to turn anyone into his instantaneous pal. That was the kind of juice Adrian had. He was like a long-marinated, well-smoked steak that continues to sizzle even after it hits your plate. His set of attributes gave him an unfair advantage – an injection of effervescence that made him immediately fit in.
As for me, I was no Adrian. I had no idea whether or not I would survive this immersion into my new life as a red blazer. No idea at all.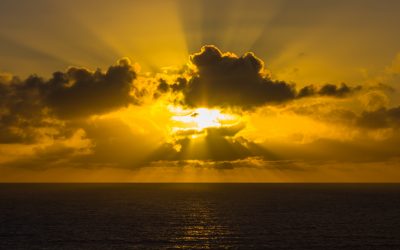 Aside from the title, any writing assignment we did at St. George's College required inclusion of the date and the initialism A.M.D.G. (abbreviation for Ad Majorem Dei Gloriam). The latter was a reminder for us boys. A prompt to help us put into practice a foundational principle of our school community.