Childhood Shorts – Chapter 15: The Bees Knees
No matter where we lived, whether in Zambia before independence or in Zimbabwe afterwards, our lives were invariably filled with music. Daddy was always listening to something or other from his collection of long-play vinyl records. And mommy, our songbird, could often be heard singing the lyrics of  the various hymns and other pieces she loved the most. Our parents also loved to party, especially in their thirties. I am talking get-down-build-a-sweat-boogie-until-you-drop kind of late-night jam sessions. Kool and the Gang, James Brown, Diana Ross, Stevie Wonder, Marvin Gaye, Aretha Franklin, The Temptations, Smokey Robinson, The Supremes. That kind of partying.
Their get-downs were always wholesome affairs, mind you, and we children were regularly invited to participate. I remember standing in the doorway between the kitchen and the front room when I was about three or four years old. Mommy and some of our aunties were cutting the rug.
"Dance, Mubuso!"
"Yes! Come dance with us!"
The ladies' invitation made me grin. My shoulders jerked forward, but my feet would not follow, and my torso was gyrating unconsciously as the various bass and treble ensembles pulsated and reverberated throughout the house. My brain, for its part, was clueless. Were was the instruction manual for making one's limbs move together in some coordinated rhythmic function? When in doubt, my mind would typically freeze.
"They want us to join in!" cried my body.
"I know, I know."
"Well, should we go?"
"Of course, it would be rude not to oblige."
"Quite. So what do you want us to do when we get to the dance floor?
"I rather I think we should dance."
"Yes, dance, of course, but how?"
"How? I'm not sure."
"You're not sure?"
"No."
"But isn't that your job, to figure things out?"
"Yes, smart aleck, it is."
"Then, would you mind doing your job?"
"Yes, I'm trying, but those movements the adults are doing don't seem logical."
"It's not about logic. Perhaps you should sit this one out and let the rest of us improvise."
"No, things never go well when you lot improvise."
"Well, nothing is going well right now. We're stuck in limbo."
"I'm thinking of something."
My brain could not think of anything.
"You coming, Mubuso?"
The aunties were getting concerned about my hesitation.
They were not alone. My body, anxious for action, was also done with waiting. My gut, feeling opportunistic, was canvassing the rest of me to join it in overriding my brain for its failure to come up with a plan.
"Just go with me," it rallied.
Empowered by the idea of insurrection, my limbs tried to make a defiant dash for the dance floor. But at the last minute my brain intervened. It was desperate to leverage all the power of its executive function to quash this uncouth coup de corps. The resultant go/no go battle in my consciousness produced a series of herkie-jerky, imbalanced leg movements and spasmodic arm thrusts that mildly puzzled my onlookers.
"Are those new moves?"
"Dunno, kids these days. They pick up all sorts of things from each other."
"Looks strange."
"Yah, but let's just continue smiling. Don't want to make him more self-conscious than he is already."
This was a heated struggle.
"I said wait! I'm still thinking," objected my brain.
"There's no time. We've got to move. We've got to do something!" My body was now earnestly pleading.
My feet somehow made it to the dance floor, but my internal conflict had been so furious that it effectively short-circuited my nervous system. Everything except my head and neck shut down so that all I could do was nod in a flourished but futile attempt to sync up with the down beat.
"Is that the only move you've got, mwana (child)?"
I kept nodding.
"Shame. That's the only move he has."
"Come, let me teach you something else, son." Daddy laughed as he came to my rescue. "Try this."
His feet flashed before me in the blur of a toes-in, toes-out twisting sequence of steps. His knees bent repeatedly in pace with the music. At the same time, his arms circled about everywhere in the full flow of a smooth funky motion. It sure looked cool, but I had trouble keeping up.
"What was that?"
"Too, much? Don't worry, I'm just teasing. We'll make it easier."
He squared me up so that I was facing him. He put his drink down and placed a little pressure on my shoulders to make me squat some.
"Rest your hands on your knees."
He did the same.
"It's an oldy but goody. I'm going to teach you the Bees Knees from the Charleston. I'll show it to you first. Then you try."
With his feet shoulder-width apart, his legs bent, and his hands still on his knees, daddy suddenly rushed his knees together so that his right and left hands touched momentarily at the center of his thrust. Then something incredible happened. I could not believe my eyes. Daddy's right knee became his left knee, and his left became his right! What? His right hand and his right knee were now on the left side of his body. Clearly, my dad was a magician.
"Daddy, your legs! They are crisscrossed! How? Does it hurt?"
Daddy roared and my aunties started to giggle.
"How daddy, how? Show me, I want to do dance magic too."
He did the trick again. This time in very slow motion.
"Did you see?"
"You swapped your hands! Not your knees!"
"Exactly! Now you try."
I did. It made me fall over.
Daddy's laughter thundered over me again. "Ha! You went too fast. Take it slow at first. Learn and then do. Practice then perfect."
I gave it another shot and managed to stay on my feet, but my hands got locked up together.
"Try again."
I did. Again and again. In fact, I reckon practicing this maneuver held my attention for the remainder of the night. I was determined to make my knees and my hands move as seamlessly as daddy's did.
"I think he's going to get it."
"You bet he will."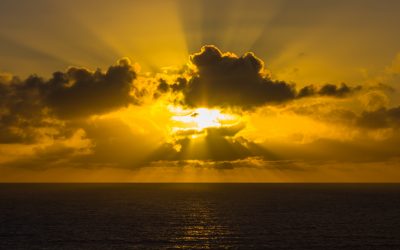 Aside from the title, any writing assignment we did at St. George's College required inclusion of the date and the initialism A.M.D.G. (abbreviation for Ad Majorem Dei Gloriam). The latter was a reminder for us boys. A prompt to help us put into practice a foundational principle of our school community.