Childhood Shorts – Chapter 16: Boogie with a Disco Queen
The Bees Knees became my go-to move. Much so for the next ten years. I pulled it out every opportunity I had to dance. I went from novice, to expert, to one-trick pony with this singular aspect of the Charleston. It worked for me. It was a highlight and a conversation piece among my aunties and mommy's friends. I, of course, was happy to entertain them whenever they called on me to perform.
Before I left St. John's Prep. in 1985, we seniors had one last hurrah. It was our school leavers' dance, an event we all had been looking forward to for years. As a single gender boys' school, St. John's Prep. did not enroll girls. We did, however, have a local sister school. It was Chisipite Junior School, which, happily for us, had the unchallenged reputation of having the prettiest girls in town. We St. John's Prep. boys were incredibly appreciative because we felt we had essentially won the school-dance lottery. A great fringe benefit of being a green blazer.
By 1985, our TV screens and VCRs had been inundated by a train of dance movies. But Saturday Night Fever (1978) – the re-issued PG-rated version – was the first one of these I watched. It was also the main one on my mind when our leavers' dance approached. As a movement, disco had emerged in 1970. It had stayed largely underground until the film Saturday Night Fever rocketed it into the mainstream culture some eight years later. Disco music, with its guitar-driven appeal and syncopated bass lines, presented catchy refrains of reverb vocals and rich orchestral arrangements. They were played over a fast tempo and four-on-the-floor rhythms that captured the imagination of younger baby boomers in the United States.
John Travolta's character in the movie, Tony Manero, was a representation of that generation and its coming-of-age journey. Even as disco fell into sharp decline in the 1980s, Saturday Night Fever remained an inspiration for those who dreamed of conquering the dance floor. They copied Tony Manero and also created their own interpretations of moves like the Bump, the Robot, the Hustle, the Funky Chicken, the Sprinkler, the Lawnmower, the Bus Stop, the Electric Slide, and the Disco Finger.
Tony Manero is portrayed as a gifted, but also very hardworking dancer. I loved the fact that the film gives a nod to Bruce Lee by displaying his poster on Tony's wall. This homage closes the circle between the discipline of the martial arts and the diligence required to achieve elite status as a dancer. Now, I was no Tony Manero. I neither had the talent to be that good nor the will to put in the hours of practice needed to execute Travolta's intricately choreographed moves. I figured, however, if I at least looked the part and could pull off one or two of his easier moves, then I would be a sure bet to impress some of the girls at the leavers' dance.
Tony was a sharp dresser, but there was no way I was going to wear platform shoes or anything like that to the dance. I had in mind instead to don a pair of black leather shoes, some white trousers, a white shirt, and a khaki waistcoat to the party. Daddy also had a slick white hat with a feather that he let me borrow. That was about as close to the look of the Saturday Night Fever character as I was prepared to go. Granted, my fashion was almost a decade behind the times, but that did not matter. St. John's was not a place where boys commonly discussed style. Even if I looked a little silly, I would have no trouble making an impact so long as I kept my confidence.
In my opinion, when you are young, and perhaps later in life too, it is useful to have a playlist of beloved songs you can commit to memory and draw upon when you need inspiration. A sort of soundtrack for those significant moments in your life. Preparing for your first school dance is a good example. 1985 was before iPods and iPhones and earlier than iTunes and Spotify. But we did have Walkmans and cassette tapes. They were our way of personalizing music and burning lyrics into our brains. My go-to song was the Bee Gees' single Stayin' Alive (1977). I had it on repeat-play in my head as I got ready for the dance. I knew the lyrics by heart, but it was fun to make up my own versions of the song.
Banam, bam, doo, bam-diddly, banamdoo, dandoo, bandida wang (. . . 2,3,4,)
Banam, bam, doo, bam-diddly, banamdoo, dandoo
"Do you see in the speed I move my knees, I'm a wrecking ball and I'm here to please. So excited, the dance is close, waiting on this much more than most. Pretty girls, swing and sway, please don't laugh at my display. Pretty soon you'll take my hand, do the Bees Knees that's my plan."
"Driven by your father, or taken by your mother, it's time to jive, time to jive. There won't be mistaking the moves that I'll be making, it's time to jive, it's time to jive. I'm pumped, pumped, pumped, pumped, time to jive, time to jive. Pumped, pumped, pumped, pumped, time to jive."
As our first official school dance, most St. John's boys had never met any of the girls with whom we were going to spend the evening. This would be our biggest collective blind date. Our most regulated too. I used to think the thirty-centimeter rule was a myth, but our chaperones were excessively diligent to ensure that boys and girls kept an honest distance between each other. I also believed that the well-worn cliché of boys standing against the wall on one side of the room and girls doing the same on the other was something only of the movies. But I was wrong about that too.
"Boys, it's gentlemanly to go and introduce yourselves to the girls. Come along now!"
We were shy but our chaperones were insistent. We therefore dragged ourselves sheepishly over to where the girls were congregated and shared a few muffled hellos. There were black girls at the dance, which was relieving. Truth be told, I arrived concerned that perhaps none of the white girls would want to dance with me. As the night progressed, however, I discovered that my fears had been unfounded.
Before long we were all getting down. Multiple sets of soon-to-be teens could be seen bopping, bouncing, and bustling about the room. They were demonstrating whatever they had in their repertoires that could pass for dance moves. Nobody was self-aware enough to be reserved. It was intuitive to us all that at the age of twelve, enjoyment is far more important than skill when you groove. Actually, that is probably standard wisdom for all ages. Just good sense for a satisfying life.
As the evening drew closer to its end, the chaperones announced that there was going to be a couples dance-off. We were instructed to find the partner with whom we had the most fun and invite them to pair up for this finale. My choice was easy. It was the girl who looked like Naomi Campbell. I want to say that she was dressed in black shoes with a black skirt and a white blouse. I think she also had a floral corsage wrapped around her right wrist, and a flower in her hair as well. But that could be more imagination than memory. I do know that I found her to be quite delightful. She was lovely and I was amazed at how well she danced. When I looked up to find her, she was already making a bee-line for me. How thrilling that our interest in dancing together again was mutual.
The dance-off was structured as a series of instant-knockout battles. Initially, everyone was on the floor strutting their stuff. The chaperones went around and politely tapped out a variety of couples. These were those who, clearly earnest in their trying, had no real hope of actually winning. The judges systematically sifted the group until there were no more than sixteen couples left. Then eight. It was like the NCAA college basketball championships. My partner and I were still dancing when the pairs were whittled down to the final four. We stepped it up a little and we made it to the last two. That is when it hit me. This was the moment. Mind, body, and gut needed to work together. They just had to. It was now or never, and I felt that I was ready.
Banam, bam, doo, bam-diddly, banamdoo, dandoo, bandida wang . . .
I worked myself to fever pitch executing a range of variations on my knock-kneed, crisscrossing-hand illusion of a dance move. I occasionally threw in improvised assortments from what I had seen Tony Manero do in Saturday Night Fever. My partner performed a cross-section of tight moves that were nimble and precise. She had all the pizzazz necessary to give us a shot at the win. Somehow, even though this was the first and only time we had ever danced, we were creative, coordinated, and even impossibly well-rehearsed. It was clear we had the judges' favor and also that of our peers. When the music stopped, we had taken the crown and my lady and I were owners of the dance floor. Was this ever the greatest night of my childhood!
First place was cool but being close to this girl was better. I was a novice though. With no idea there was such a thing as follow up. Going to a dance, having a splendid time, and winning the floor with a Naomi Campbell look alike – that was not my usual life. My naivety probably explains why I quite forgot to ask my little supermodel for her telephone number. That said, had she have given it to me, I am not certain what I would have done with it. Call her I suppose, but I was new to that too.
"I'm sure you will bump into her again in the future. Even if you don't, there will be other lovely young ladies on the dance floor of life. I'm glad you won, son. Very well done!"
Daddy put his arm around me and spoke with a tone that conveyed the most assuring blend of pride and consolation a father could offer. The belle of my ball was gone forever as we never again crossed paths. Still, I rejoiced for a night that had been simply magnificent. For she, my boogie-down disco queen, and I together had very much indeed been quite the bees knees.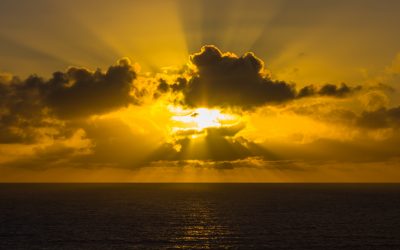 Aside from the title, any writing assignment we did at St. George's College required inclusion of the date and the initialism A.M.D.G. (abbreviation for Ad Majorem Dei Gloriam). The latter was a reminder for us boys. A prompt to help us put into practice a foundational principle of our school community.