Childhood Shorts – Chapter 2: Hot Ross Summer
We were a sorry pair, but by golly, what good times. My brother and I were regularly rendered into two convulsing, spluttering, blubbering, blue-faced, and half-conscious heaps of wide-eyed crazy. We experienced many such episodes during our childhood. They were moments of mirth brought about by the classic comedy of effortless entertainers. Amusing artisans who had perfected the skillful science of lifting a laugh from an anticipating audience. As I recall, the first heroes of humor ever to charm us in this way were Stan Laurel and Oliver Hardy.
It was the 1980s, our parents had recently purchased a VCR, and Bongai and I were witnessing the wonder of VHS videotapes for the very first time. This was revolutionary for us. Movies at our fingertips? Shows we could watch whenever mommy and daddy needed a break from parenting? Bliss for us children. And we took full advantage. Our film collection was miniscule in those days, but it was populated by some of the greats. I remember us watching the silent movie Liberty (1929). Laurel and Hardy play two escaped convicts whose flight to freedom is complicated by a comical mix up of pants. They confuse whose is whose as they quickly change clothes in the rear of a getaway car. The short movie draws out their efforts to get back into the right pants. All the while they find themselves negotiating a ridiculous set of circumstances as they strive to avoid capture by the police. This was their signature appeal as comedians. Namely, taking the mundane activities of everyday life, and, through the magic of the motion picture, transforming them into the complex and insane adventures of the world's two most mischievous clowns.
Laurel and Hardy caused a ruckus in our hearts. They were idiots on screen and we loved them for it. No matter how preposterous their predicament, they managed to pull through. They acted the fool and they lit up the world. They were as savvy as they were stupid. This endeared them to us and made them feel akin to kindred spirits.
You see, Bongai and I also enjoyed finding brilliant ways to do brainless things that made us bowl over with laughter. We were the type of children who would run through the house at full speed with our eyes closed. We wanted to know if it was possible to do so without crashing into furniture and walls. It was not, obviously. We had fallen out of trees, off bicycles, out of beds, and down stairs. We had punched each other, held each other under water, and even tried to light each other's farts. We had pried ice cream from the freezer (which our parents had to lock because of us). We had pickpocketed daddy's suits to buy penny coolers (popsicles) and candy cakes from street vendors. We had also pulled pranks. Several spectacular tricks I might add. Particularly on our sisters who, to their credit, gave as good as they got. In all these exploits, our measure of success was simple: if it did not make us laugh, it really was not worth it.
"Yo. That was crazy!"
"Shall we do it again?"
"No, I can't! I'm enough. I've got hiccups and I'm gonna wet my pants."
Good result.
Beyond all the fun, there was also an important practical purpose to this naughtiness. We were conducting research. Each act of misbehavior served as a data point to help demarcate the limits of our parent's patience. If we only got a scolding for what we did, there was probably room for further exploration. A spanking, by contrast, was usually a good indicator that we had gone too far and would likely need to dial it back. But we were not madmen. All gamesmanship aside, we knew well enough to color within the lines of safety. We understood that a point of no return did really exist. There was ultimate precipice from which disobedient children could fatally fall if ever their mischief manifested in actual harm. Our parents' matter-of-fact, Old-Testament threats made that abundantly clear:
"Go ahead and be idiots, but just know, if you die, we will kill you, and if you kill somebody else, you will die."
Fair enough. Fear compensated for any lack we had in wisdom. I am pleased to report that for years, Bongai and I were successful in bringing no grave damage to ourselves, or to our friends, our sisters, or our parent's property. But that was before Ross.
A highly affable, academic genius, and loyal comrade, Ross was our friendly neighborhood white boy. He looked like an angel, but he had a devilish sense of adventure and an incorrigible tolerance for risk. For a period of time, Ross was into "experiments," but not the kind that would be sanctioned by the science labs of any school. He preferred social experiments, but again, not the type that would create any positive value for the world. His were more in the sort of set-cats-on-fire-and-watch-them-run category of social entrepreneurship. You could tell when Ross was about to transform into "Dr Rascal." He would look at you with a crooked smile and fiery eyes, and slowly utter three ominous words, accompanied by a gurgling, villainous lilt in his voice. "Why don't we . . ."
It was precisely his uncanny flare for recklessness that made time with Ross unparalleled fun. He had a way of leaving you dizzy in a cocktail of contradictory emotions. You could all at once, in the short space of thirty seconds, experience a mixture of shock, intrigue, guilt, admiration, disgust, envy, horror, and inspiration. For good reason, it was best that any shenanigans should unfold at his place, or out in the street, or somewhere else. Anywhere, just not at your house. I kid you not. Ross should have come with a disclaimer tattooed to his face: "Do not try this at home."
He lived with his mother, longsuffering in her forbearance and apparently optimistic about everything. God forbid she should one day gaze into the sky and see Ross look-ma-no-hands-ing her from atop a blistering nuclear warhead. I am sure her placid response would have been something along the lines of, "Tisk, tisk. Boys will be boys. Don't be late for dinner, Rossy."
Now I think of it, there was that one summer, when against better judgement, we let "Ross Rules" slide and had him over to our digs almost every day. In hindsight, we probably should have pulled the plug when he started throwing live frogs onto the roof. But we were bored, it was hot, and Ross was a welcomed distraction. Still, we really should not have gone through the red door. Well, it was not exactly red. Though, it might as well have been, what with what was behind it, and given all the stern admonitions from daddy not to go in unsupervised.
Zimbabwe, at the time, was facing a severe fuel shortage. Being that he was great at planning ahead, daddy had preempted the crisis by securing a few large emergency-supply drums of petrol. He kept them in the storeroom behind our two-car garage. It moonlighted, while our parents were at work during the day, as a play space for us beyond the heat of the sun. The "red" door was the furthest thing from our minds over that particular school break. That is, until one day when Ross asked what was behind it.
"Ah, nothing. Just petrol."
"Oh, how much?"
"Dunno."
"Why don't we find out?"
"Can't."
"Why not?"
"Not allowed."
"Scared?"
"No!"
"Sure?"
"Yes."
"Prove it!"
"Come on then."
"Open the door."
"I am."
"It's dark."
"I know."
"Remove the cap"
"Shouldn't."
"Scared?"
"Nope."
"How much is in there?"
"Can't see."
"Get a flash light."
"Bongai . . ."
"Ok!"
A few minutes passed.
"Can't find the flash light."
"Good. Let's leave."
"But we don't know how much."
"So?"
"I wanna know."
"Tough."
"Why don't we try some matches?"
"Fine. Bongai . . ."
A few minutes passed.
"I found them."
"Light one."
"I am."
"Can't see."
"Move closer."
"You move the match closer."
"Like this?"
"Lower."
"Lower?"
"Yes."
Several hours passed.
"It's a miracle the drums didn't explode, Mrs. Edwards."
"I know, Mr. Zamchiya."
"How is he?"
"He's fine. Hiding under his bed. His fringe is a lot shorter, now."
"I can imagine."
"He's afraid you will beat him."
"I'll leave that to you. I've got my own two to deal with."
"Apologies again for Ross."
"Good night, Mrs. Edwards."
Like others before, this adventure ended with Bongai and me in the fetal position struggling dreadfully to breathe. Though this time, not because of hysterical laughter, but due to panic-stricken crying and cringing fear. The prospect of punishment now hung tangibly over our heads like the sword of Damocles. We were only waiting for it to fall fast and furiously split open our skulls. Did we go too far? Did we pass the point of no return? Best case, there was a walloping in our future, we were sure of it. Worst case, mommy and daddy would end our lives like they promised. The oddest thing happened, however, and we were left dumfounded. Our parents did not scream and did not spank. They just looked at us like they loved us and were glad we were still alive. They thanked God for mercy, told us to be more careful, and then explained that our eyebrows would take a little time to grow back.
No thrashing? Bongai and I were elated. My recollection may be off, but I am pretty sure the two of us danced a jig to celebrate.
"They're not going to beat us!"
"They're not going to kill us!"
"We'll live to be grownups!"
We were exhilarated by this outcome, but also very much confused. Why did we not get beaten? Do not get me wrong. Naturally, we were not the type of children to wish a whipping upon ourselves. Furthermore, it was fantastic to have God-fearing parents who were more concerned to have us back unharmed than to see us punished. However, the problem was that our parents' response went against everything we had ever known. To this point, we had lived by a very simple formula: get in trouble, get spanked, get over it. Then rinse and repeat. That is what we did.
Although we hated getting beaten, we were accustomed to the game. Discipline was an inextricable part of the process. To that end, we had routinized the procedure of girding up our loins and bracing ourselves for our just deserts. We had perfected the art of working ourselves up into a tizzy of trepidation. Our bodies knew how to convert our anxious energy into ocean-loads of adrenaline. We would store it all up in latent capacity as the necessary fuel to power us through any wave of corporal punishment. That first contact of the rod or belt on the flesh of our bottoms would be like flint to tinder. This we knew. The spark it created would ignite all our pent-up feelings. Our little bodies would detonate like ambulatory Molotov cocktails. Then we would spew out blood-curdling screams and issue forth acid-burning tears. This was standard practice. Par for the course, you might say.
"I'm sorry! I'm sorry! I'm sorry! I'm sorry! Whaaaaa!"
But there was a pot of gold at the end of the rainbow on the other side of each storm. When all our howling and sobbing had finally run its course, justice would have been served. The wrath of our parents would have been quenched, and we would once again be able to revert to being their lovable twits. All would be well that ended well. That was the guarantee.
Our parents were our surrogate consciences and spanking, our guardrail against self-destruction. That is how it worked. The beauty of it all was that this arrangement enabled us to meander through our early years without ever truly having to think for ourselves.
Things were changing though in the wake of our near-suicide spectacular disaster with Ross. The basic premise in our social compact with our parents was being upended. Unbeknownst to us, Bongai and I had arrived at a curious stage in our childhood. It was that pinprick in the timeline when our parents started to believe they ought no longer rely on the rod for discipline. They were beginning to desire more self-governance from us. We, however, being irresponsible miscreants, still preferred the rigors of rigid paternalism. We were not so keen on the accountability that comes with the freedom of self-determination.
"You ought to know better than to act this way, boys. Do better."
Do better? Daddy's words of disappointment were far worse than his belt. They created a back-bending burden of guilt which we found difficult to carry. Publicly, we did all the right things. We made believable statements of contrition and plausible commitments to improvement. Privately, though, when our parents were not watching, the two of us smarted with deep frustration. Do better? It was Ross' fault, not ours! And if it was not Ross' fault, then neither of us was truly willing to accept culpability for the calamity we created. Somewhere, deep within the recesses of our respective hearts, pride and guilt were comingling intensely. They created an unholy and unhealthy concoction. It inebriated our consciences and caused us to do the only thing satisfying to our sullen, selfish souls. We blamed each other, and we locked ourselves in a battle of buffoonery, quietly quarrelling about who, between us, was the greater fool.
"You shouldn't have gotten the matches."
"You told me to!"
"You didn't have to listen."
"Well, you just don't want to admit it was your fault."
"No way, how was it my fault?"
"He's your friend."
"He's your friend too."
"No, I just play with him, when he comes to visit you."
"You're a dupe."
"No, you're a dupe."
"Benzi," (which means idiot).
"Benzi remunhu," (which means idiot of a person).
"Benzi remunhu chaiyo," (which means idiot of a person, entirely).
In this ping-pong procession of blame-casting, we very much resembled our comedic heroes. As their act goes, Oliver Hardy is portrayed as perpetually accusing Stan Laurel of getting him into another fine mess. Yet, he hardly ever fesses up to his role in contributing to their dilemmas. For his part, Stan Laurel persistently tries, but fails to prove his innocence. Oftentimes, the two characters break the fourth wall. They raise an eyebrow or smile a smirky smile to the camera. It is all an effort to get the audience on their side. A ploy to have viewers join the two scoundrels in being flabbergasted by each other's stupidity. In the movies, this convention works exceedingly well, and it makes for great onscreen comedy. In real life, however, the blame-game basically bears no beneficial bounty.
As we argued, Bongai and I proved ourselves too immature to grasp a powerful irony. Our very participation in a debate about each other's standing in the hierarchy of idiots was clearly evidence that we were both high-ranking fools. "Never argue with a fool," Mark Twain once advised. "Onlookers may not be able to tell the difference." This was an echo of the older Biblical truth found in Proverbs 26:4-5, which states, "Answer not a fool according to his folly, lest you be like him yourself."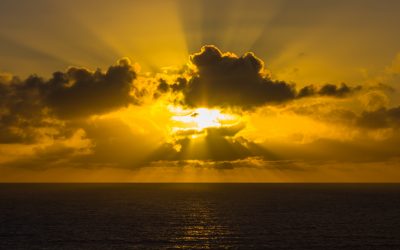 Aside from the title, any writing assignment we did at St. George's College required inclusion of the date and the initialism A.M.D.G. (abbreviation for Ad Majorem Dei Gloriam). The latter was a reminder for us boys. A prompt to help us put into practice a foundational principle of our school community.