Childhood Shorts – Chapter 3: Super Nudge
Quarreling is certainly one way to demonstrate to the world the depth of your foolishness. Another quite effective method is to show yourself to be impressionable. Granted, I had the excuse of childish naivety in my early years, but I must admit that I was as gullible as a goose. I was overtrustful and most easily deceived. What is more, no matter how grossly I was fooled or how often I was tricked, I never quite learned my lesson from the experience of being duped. I rather think it was a matter of grace that my exploiters were members of my own family. A point of relief, really, that it was my two older sisters who persecuted me and not anybody more sinister or manipulative. I shudder to imagine how I might otherwise have survived through to the age of six.
Having said that, I ought not have you believe my sisters were wicked children. They were quite the opposite actually. More often than not, they were true epitomes of sugar and spice. The exception, of course, was when I was being bothersome. To that end, their harassment of me was not completely their fault. I made for a ready trigger to their aggravation and I offered a compelling target for their retaliation.
Before Bongai came along in 1977, I doted upon my sisters. I craved to be wherever they were, doing whatever they were doing. That was my compulsion. All day, every day, all the time. In retrospect, I am beginning to appreciate how that might have become an issue of annoyance to them.
Still, as the rumbling of the echoing thunder can do nothing but be loud, so being a nudge was something I could not help but be.
"Hi Pei. What are you doing?"
"Nothing."
"You're not doing nothing."
"I am."
"No, I see you. You're doing something."
"No! I told you I'm doing nothing. I just want to be by myself."
"Can I be by myself with you?"
"No. The whole point of being by myself is to be alone."
"I don't like being alone. It's not a lot of fun."
"Well, it is for me."
"Ah, okay. Well, let me watch you and see just how much fun it is, then."
"No. You can't, because, well . . . Fine. Do whatever you want. Just be quiet."
After a few minutes.
"It doesn't look as if you're having much fun."
"Why are you still here?"
"I'm watching you, just as I said."
"Why?"
"You said, 'Do whatever you want,' and I want to watch you."
"You're being annoying."
"No. I'm not annoyed. I like watching you."
"No. I mean I am annoyed. You're annoying me."
"Daddy says a smiley face is the cure to a grumpy heart."
"I'm not grumpy."
"Yes, you are, grump, grump."
"Don't call me that."
"Grump, grump."
"I said stop."
"Then smile."
"No. I don't want to. I can't smile. You're watching me, and it's weird."
"Daddy says you can do anything you set your heart to do."
"That's not what I mean."
"Well, you sound mean to me."
"I'm not being mean. I just don't want to smile."
"Yes you do. I can see it in your sparkly, sparkly."
"No, I don't. Leave me alone."
"Smile."
"I said no."
"I'll pull your cheeks."
"Go away!"
"Cheeky, cheeky, cheeky."
"Hey! Stop. Get off."
"Pully, pully, pully."
"Don't. I'll tell mommy! Behave yourself and get out of my room."
"Alright. But I'll come back to check on you. Make sure you're okay."
"Aargh! Don't you get it? I want to be alone."
"Fine. I'll go get teddy. Then the three of us can be alone together. See you soon!"
Although I meant no measure of harm, it was these types of interactions that built up frustration in my sisters' psyches and caused them to seek out revenge. In as much as I was most organic in my ability to irritate, my sisters when they needed to be were experts in slyness, in stealth, and in slight. I remember two recurring ruses they regularly relied upon to roil me. They are so deeply embedded in the fabric of my consciousness by now that I have even resolved to give them names. I call the first "Bread Pudding." The second I refer to as "London's Burning" as a nod to the age-old English nursery rhyme.
Bread Pudding is a simple trick which I sadly continually fell for.
"Hey Buso, come here!"
"Huh?"
"Over here. We've got a surprise for you."
"A surprise? I'm coming. I'm coming. What is it?"
"Well, it is something you can eat."
"Oh yum!"
"Now, close your eyes and open your mouth."
I was clueless. While one sister ginned up my excitement for the treat, the other would chew on a piece of bread until it became a dense, round doughball that was super soggy with saliva. As I stood there, eyes closed and mouth open wide with expectation, that other sister would transfer the 'bread pudding' from her mouth to mine. The former would quickly grab the top of my head and the bottom of my jaw and summarily slam my mouth shut. The doughball, with all of its slippery slime, would flatten out and spread throughout my mouth. Over my tongue it would go, around the sides to my teeth. A little bit would flow toward the opening of my throat. The taste and texture of the thoroughly chewed bread would cause a violent reaction in me right down to my stomach. That would make me gag, again and again, my reflexes urgently battling to extract me from the torture of it all.
London's Burning was a different type of shock treatment. My sisters would wait until I was soundly in dreamville. Then they would quietly creep into my room, kneel beside my bed, and put their chins gently on my pillow. For a moment they would watch the peaceful pattern of my soft state of slumber. Like visitors to an art gallery, they would act as though they were quite taken by the angelic portrait of me in snoring mode. Eventually though, in flawlessly rehearsed unison they would suddenly whisper as loudly as they could:
"The house is on fire! Get up Buso, the house is on fire! Fire! Fire! Fire!"
There are not many terms that can bring a person out of snoozeville as quickly as can the word "fire."
"Fire? What? No! Help! Help! Somebody help! Find Teddy! And my gumboots! And my mince pie!"
In a few short seconds, I would be up. Not quite awake, but up. My legs would have me running about the house like a decapitated fowl. My brain, meanwhile, would struggle to wrestle off the heavy fog of incongruence that often dwells in the halfway house between wakefulness and sleep.
"Save yourselves! Don't forget the cookies!"
When woefully woozy, it is almost mandatory that one must say the strangest of things.
"Come unn, Teddy! Lesh run away afore she blowsh!"
Vocalizing one's thoughts like a high-pitched four-year-old drunken sailor, however, is optional. Also, waking up one's parents unceremoniously in the middle of the night is ill-advised. But then again, that is the outcome my sisters desired.
"What's all that noise? Why aren't you asleep? Why are you shouting about fires and teddies and mince pies?"
Flustered, frustrated, and sleep-deprived parents are quite the sight to see. Dressed in their pajamas and nightgowns and slippers, their disheveled hair and bulging eyes and grimacing teeth made them look a lot like mad scientists. Indeed, their scalding scolding only strengthened the hypothesis. Their voices reverberated like the long, slow, whirling ring of an alarm-inducing horn at a fire station.
"Whaaaaaaat aaaaare yoooou tryiiiiing toooo dooo too usssss? Donnnn't yoooou knowwwww, whaaaat timmme it issss?"
No matter how much I might try to explain why I had lost my mind and was waking up the whole house in the middle of the night, I was never able to fully acquit myself. My parents often had no recourse but to beseech me not to do it again and then carry themselves back to bed regretting their shorter night of sleep.
"That's your child. There's something wrong with him."
"Well, what can I say? You gave birth to him."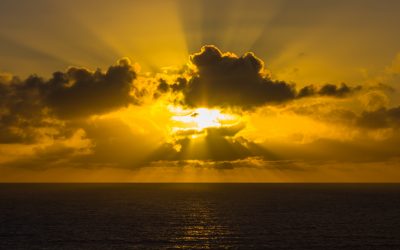 Aside from the title, any writing assignment we did at St. George's College required inclusion of the date and the initialism A.M.D.G. (abbreviation for Ad Majorem Dei Gloriam). The latter was a reminder for us boys. A prompt to help us put into practice a foundational principle of our school community.