Childhood Shorts – Chapter 31: Hartmann Hill Sheriff
Among the films daddy brought home during the 1980s, Cahill: U.S. Marshall (1973) was probably the first in the cowboy genre we ever watched on VCR. Just for that reason, we played it repeatedly. John Wayne's character, J.D. Cahill, is a lawman of incorruptible integrity and saddlebags of style. His true north is justice and his life's work is bringing the purveyors of wrongdoing squarely to their knees.
In the opening scene, Cahill is quickly established as courageous and cavalier. We see the hooves of his horse plant and uproot themselves gracefully in the snowy bed of a covered path. He is somewhere in the woods, striding confidently into the campsite of a band of bandits. The camera brings him into focus. His brown leather boots sit firmly in the stirrups of the chestnut stallion he rides. Reins are in his left hand, and a shotgun is cradled in his right. It leans from his waist at an angle acute, with double barrels stationed, silently saluting the sky. His fingers rest in brown leather gloves, and a fashionable double-breasted tan coat covers his torso. Around his neck is wrapped a kerchief, and what looks like a deep brown Stenson coolly crowns his brow. Cahill retrieves a star-shaped metal badge and affixes it to his coat. It is engraved with the words "U.S. Marshall," and he taps it twice as he informs the outlaws of his intention to make an arrest. A volley of bullets follows the volley of words. The action freezes as the soundtrack, A Man Gets to Thinkin', bursts in, and the opening credits begin to roll. You get the idea Cahill is calmly in control.
Perhaps of his job, but certainly not of his boys. While Cahill is away, as he is frequently, his two sons, Danny and Billie Joe, get mixed up with the wrong crowd. They find themselves accessories to a bank robbery and the murder of the local sheriff. An ill-conceived decision on their part. Influenced by bad actors, yes, but fueled largely by Danny's frustrated feelings of abandonment by his father. This is an act of rebellion, a direct slap in the face, a symbol of Danny's rejection of J.D.'s authority. Billy Joe is complicit, but only by virtue of being the much younger sibling trying to look out for his older brother. Not because of any resentment toward his father.
Cahill is not the very best of John Wayne's films, but it resonated deeply with us on several levels. The movie serves as a cautionary tale for young boys and offers a series of both transparent and obscure messages. Firstly, children should not join gangs or rob banks. Especially if their father is not a U.S. Marshall who can scoop in and rescue them from the bad guys. Secondly, getting the sheriff killed is neither an appropriate way nor a proportionate means to express youthful angst. Thirdly, fathers should strive to achieve balance between the call of their careers and the mandate of parenthood. Fourthly, brothers should stay together through thick and thin. They should be each other's keepers and find ways to defend one another from trouble and from foolishness.
Danny and Billy Joe present beautiful portrayals of this fourth principle at several points in the film. At the beginning, we see Billy Joe trying to talk his brother out of the huge mistake he knows they are about to make. Failing to convince him, Billy Joe buys time in hope that Danny will come to his senses.
Billy Joe's faithfulness is reciprocated as Danny stays by his side and tends to his needs when he falls sick with pneumonia. Danny even stands up to the lead villain, Fraser, who breaks into their room at night during a thunderstorm and threatens Billy Joe's life. Danny further hatches up a plan to get them both out of the clutches of the gangsters, to give their share of the money back, and to confess their crimes to the authorities. Danny saves Billy Joe's life, and Billy Joe plays a huge role in Danny's repentance and redemption.
Bongai and I admired Danny and Billie Joe. Their bond reflected ours as we were deeply committed to each other. It was so throughout our early childhood and into our preteen years. After primary school, however, the fabric of our mutual reliance gradually began to fray, lacerated largely by choices I made and allegiances I forged that left my brother exposed.
I started at St. George's in 1986. Bongai followed four years later in 1990. Being a student at St. George's was both stretching and engaging, a tribute to the eclectic, yet committed cohort of staff members who tended to our development. Among them were those we revered for their brilliance. Father Ross was our mad-scientist of a mathematician. Mr. Pugh, our English teacher, was a pedagogical spitting image of Robin Williams' John Keating from Dead Poet's Society. Mr. Tiernan was our Latin teacher. He made learning the language such dynamic fun.
There were also those we admired for their investment in our wellbeing. Mrs. McLoughlin, the French teacher, was doting and affectionate. Mr. Katsukunya gave himself fully to geography so that his very body became a compass and his classroom a chartable globe. Mr. Ajello simplified the complexity of physics for us. Mrs. Poulos allowed us to dissect frogs. Mr. Chigaadzira organized our soccer teams and made us laugh with all his wonderful turns of phrase as he creatively indigenized much of the Queen's English.
There were others too. Some we loved, some we tolerated, and some we tried to make quit. But one staff member was in a category of his own. His role and the way he carried it out struck fear in the heart of every single student. His reputation was such that we seldom used his actual name. Instead, we mostly called him "Jets."
Now, it was better to see Jets from a distance than not see him at all. You were at your most vulnerable when you did not know where he was. We had a code, a survival system of sorts, a pact to alert each other as students if ever we caught wind that Jets was on the prowl. There were hand signals, winks, nods, and other gestures. Fake coughs, whistles, screams, and other covert and camouflaged messages were also incorporated when necessary. If you crossed paths with Jets, it was best not to make eye contact, and better yet not to speak. For, his eyes were steely and intimidating, capable of causing nerve-induced mishaps that might result in some errant statement or other self-incriminating confession. This was serious business. Jets was serious business. He was the director of discipline at St. George's College. In some ways, by proxy and proximity, that made him a type of father figure to us all whether we thought of him that way or not.
Jets was a man of stature. Thick set, but not overweight. Strong looking, but not muscle-bound. He had the type of physical presence that comes from a wiry, active, and persistent life. He was old Rhodesia. You could tell. Even the wrinkles on his face were difficult to look at. It was as if each one had been wrought in place by some horrific event. Something either experienced or precipitated by him. He had Veldskoens on his feet sometimes, or boat shoes, or sneakers that were brown. His trousers, baggy and oversized, were khaki when more casual, and russet and pleated when not. He wore long-sleeve shirts, a plaid collection mostly, of green and brown or blue and chocolate patterns interspersed with white. Whenever the heat demanded, he donned a polo shirt from a set that was frequently also brown, or some other dark-looking hue. For headgear, a floppy boonie hat was his choice and, at times, a military-style slouch. In either case, it was coffee or tan, the crest of his earth-tone pallet.
You could hear Jets when he approached and smell him in his wake. His brown belt dangled a jangle of keys that bell-rang whenever he walked. His chain-smoking effluence, intermingling with the breeze, left a trail of pungent tobacco. His gait was that of a cowboy and his confidence, of a lawman to boot. He carried with him the weapons of retribution that made everyone cradle in fear. You got the feeling he was made for this work, to terrorize boys, and discipline teens, and make the school function in lockstep.
His punishment protocol was plain, composed of feds and cuts. Feds for fingers and the palm of your hands. Cuts for the flesh on your butts. He might administer feds in public, but cuts were a private affair. They mostly took place above the gym in the heart of his dungeon-like lair, his office. There, he kept his collection of canes made all of bamboo, thin and polished. The thwacking they gave would leave lines on your skin, that would sting much long after he had finished. With Jets, judgment came in multiples of two, two feds or cuts, up to six, usually four. Feds were apportioned quite equitably, each hand earning at least half of the score. For feds, he had a paddle, a breadboard of sorts with a handle. Down it would come on your back-arching palm with a force that could blow out a candle. For cuts, he would demand you lean over a chair, as he limbered his cane for its work. There was not a child that he did not scare, not a boy that did not think him a jerk. Like it or not, whether he loved it or not, this was the call of his gig. To "go get 'em", whenever we students transgressed, was his mandate and, therefore, he did.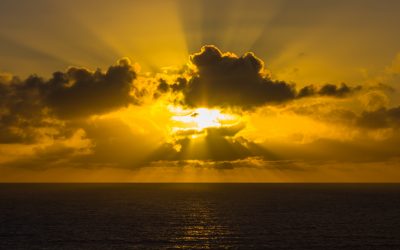 Aside from the title, any writing assignment we did at St. George's College required inclusion of the date and the initialism A.M.D.G. (abbreviation for Ad Majorem Dei Gloriam). The latter was a reminder for us boys. A prompt to help us put into practice a foundational principle of our school community.