Jets was not alone in the execution of discipline. He had help from prefects. Prefects were deputized agents of the school's system of control. They were a small body of boys from the sixth-form (twelfth-grade) called out to preside as watchmen over the broader student body. A policing set of hounds that roamed the school with the authority to administer lines. A punishment every boy hated, lines were a disciplinary writing assignment. The task would have students present a prescribed selection of prose on any topic and in any style a prefect might demand. Lines did not count toward any grade or course of study. They were essentially pointless, and that was precisely the point. To cause students to waste their time and expend their creative juices on a task they did not select, for a deliverable nobody cared about.
"You waste my time by misbehaving, I'll waste your time by issuing lines."
The number of lines a prefect might assign would vary in each case according to the nature of the violation. There were no specific guidelines, only general norms that prevailed and were passed down annually. Twenty-five lines was the standard starting point. Failure to rise up and remove one's hat when a prefect, staff member, or parent passed by could earn a student twenty-five. Neglecting to pick up litter was equally worth twenty-five, as was arriving at school all scruffy-looking and unkempt. Fifty lines was usually reserved for talking infractions, like breaking silence during school assemblies, or failing to maintain classroom noise-levels at or below acceptable decibels. Incidents of blatant insolence and disrespect would regularly net offenders one hundred lines or more. 
The role of a prefect was incredibly challenging. Being elevated above other seniors was simultaneously good for your resume and bad for your reputation. Just like a prophet in his home town, a prefect is not without honor except among his peers. It is a slippery undertaking to skate the stripe between supporting the system and selling out the seniors. Unsurprisingly, many prefects did not put much effort into policing seniors. They instead focused on bringing the long arm of the law down upon juniors. This basically gave seniors, who were students in Form 4 (tenth grade) through Upper Sixth (twelfth grade) the run of the school.
Under Jets, St. George's was stiffly hierarchical. Seniors had privileges, liberties, and territories on the school grounds that juniors could not access. Seniors could recruit juniors to perform a variety of errands and tasks on their behalf. Acts like carrying equipment, retrieving belongings, reciting songs, conveying messages, standing in line to purchase snacks, for example. These were all within the rights of seniors to demand. The general expectation was that seniors would not mistreat juniors, but many seniors were known to go beyond the limits of reasonableness. For pure entertainment, for example, some seniors made juniors profess their love to trees, do pushups until they collapsed, wrestle one another, and spit in each other's food. Juniors could refuse to comply, but at their own peril, as some seniors would make no bones about bullying juniors into submission. 
"What are you waiting for? Swim across this rugby field!"
"I beg your pardon, sir?" (Juniors had to call seniors "sir.")
"You heard me! I said, swim across this rugby field. You think you're slick, don't you?"
"Sir?"
"I saw you take a short cut across my island this morning. You didn't think you would get caught, did you, mupfana (little boy)? Well, you must think you're as slippery as a fish. You know what fish do?"
"No, sir."
 "They swim, munin'ina (little brother), and they also get caught. Now, you've already been caught, but we have yet to see you swim. So, go on, be like the scaly little fishy you are and wriggle yourself across this field, post haste!"
"Respectfully sir, ndiregereiwo (please forgive me). I apologize for what I did. I was late for class, and you know how some of the teachers can be. You have it from me, I won't do it again."
"Stop your sniveling, laaitie (young man)! Be a man."
"But swim across the field? Musadaro, chef (don't do it, chief). I'll get grass stains all over my uniform and there will be trouble for me with Jets if he sees me, and with my teachers, and with my mom."
"Well, you should have thought about that before you put your scaly little toes on my island, you momma's boy. Now, be gone. Wriggle away!"
"Across this field?"
"Yes, across this field."
"On my stomach?"
"Yes, on your stomach."
"That will take all day."
"I've got all day, china. And now, so do you."
Seniors could be cruel.
"Hey, laaitie, come here."
"Me, sir?"
"Yes, you. Go to the tuck shop, for me. Get me some barbeque crisps, a Freddo, a Lunch Bar, and two beef pies. Ok?"
"Ok, sir."
"Well, what are you waiting for?"
"Sorry, sir. Aren't you going to give me any money?"
"What for?"
"To pay for your snacks, sir."
"So, you expect me to do everything?"
"Sir?"
"First, I had to find you. Then, I had to figure out what I wanted. Then, I had to tell you what I wanted. Then, I had to send you. Now you also want me to pay? Are you trying to upset me? Handiti wakuda kujaira? (You trying to be cocky?)"
"No, sir. It's just that . . ."
"It's just that what? Hapana. Chingoenda zvako iwe! (Nothing doing, just get going!)"
 Sometime later . . .
"Err, ok, here you go, sir. I managed to get your order from the tuck shop."
"Ah, well done, mupfana. You are showing me that you are very resourceful. This will be good for you, very, very good. You see what happens when we work together?"
"Can I go now, sir?"
"Almost. Just one more thing. Where is my change?"
By Lower Sixth Form (eleventh grade), I was a reasonably confident young man, doing well academically, active in sports, and with a decent crew of friends. My brother, in Form 2 (eighth grade), was a junior who faced the daily challenge of navigating his way through a minefield of potentially explosive exchanges with seniors. In some other context, he would have benefited from having a senior, and soon-to-be prefect as a brother. But at St. George's College, water was thicker than blood.
There was a day Bongai approached me during a breaktime, when I was sitting and talking with a group of other seniors. His eyes were red, tears were rolling down his face, and he was hyperventilating.
"Buso, can I talk to you?"
"What's the matter?"
"Somebody is bullying me, and I need your help."
The group of seniors broke from their conversations and turned their attention to us. I looked at them, looked at Bongai, back at them, and back at Bongai again.
"What do you mean you need my help?"
"I need your help to get him off my case. Please, come help me."
One of the seniors snorted and rolled his eyes. The others looked like they were half smiling and half grimacing. I took their silent cue.
"Little brother, this is high school. You're no longer in the little leagues. You've got to stand up for yourself. You've got to be a man and sort this out for yourself. I can't help you."
"But you don't even know what's going on. I can't handle it alone."
"I don't need to know. You've got to deal with it."
The other seniors chimed in with sentiments of agreement. Bongai hesitated for a moment, before dropping his eyes to the ground. He heaved a deep sigh, sank his chin into his chest, then turned around, and walked away. As I watched him go, I realized that it was not only his feet that were leaving me, but also his heart.
Was I my brother's keeper? I thought I was doing him a favor. In this Darwinian culture of survival of the fittest, my brother would do well to stand up for himself, or so I rationalized. My thinking betrayed the unspoken reality. I had been conditioned, by experience, to believe that these specific aspects of school life were the traditional rites of passage. Ways by which boys became men. Albeit wounded men. Today, however, I am sure that many graduates still carry with them highly unnecessary, but largely indelible scars from their time at our august institution.
It was difficult to understand then, but Bongai and I were both victims of youth culture. He as a junior who got bullied, and me as a senior who looked the other way. In our big-dog-eat-little-dog universe, the negative forces that cannibalized the student body were ripple effects of the tensions that existed between seniors and Jets. His draconian dominion drew down with a barometric pressure that brought seniors to breaking point. Juniors, like my brother bore the brunt of the baggage and all the bemoaning of the seniors. Juniors suffered their mistreatment as the unfortunate collateral damage in a system of control that was veering towards self-destruction.
Our final assembly that year was one of the most memorable in the history of the school. The class of 1990, the year ahead of me, decided to stop looking away. For almost three years, they had systematically waged a rebellion against Jets, seeking to oust him from his role as director of discipline. They desired to break the yoke of his stringent rules, excessive methods of punishment, and generally invasive practices. It all culminated on that last day, in a cacophony of chaos. At the height of Jet's speech, cockerels where released by certain seniors from the balcony down into the body of the school hall. Students erupted in uncontrollable laughter that embarrassed the dignity of the ceremony. There were also small fires that were lit across the school grounds, and classrooms that were vandalized. An outdoor dividing wall was also toppled somewhere. In the end, a few seniors were expelled, but the 1990 cohort was triumphant in achieving its goal. Jets was reassigned in the next school year, my final one, to having less direct interaction with students. The result was a dramatic shift in the culture of the school and in the relationship between seniors and juniors.
Now and again, as I reflect on those years, I wonder what would have happened if the 1990 cohort of school leavers had been shackled by fear. If their hearts had failed, or feet faltered, or knees buckled, what legacy would they have left? What hope for those of us who remained?
I also think about Bongai's journey through his early years of secondary school. They should have been different. They could have been different. You know, if I had shown the smallest bit of courage. If I had taken a stand between the bully and my brother instead of pandering to the pressure of my peers.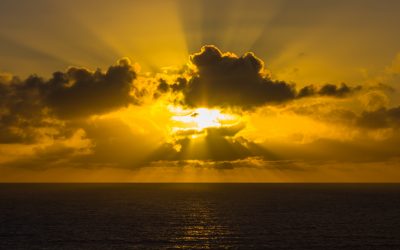 Aside from the title, any writing assignment we did at St. George's College required inclusion of the date and the initialism A.M.D.G. (abbreviation for Ad Majorem Dei Gloriam). The latter was a reminder for us boys. A prompt to help us put into practice a foundational principle of our school community.