Childhood Shorts – Chapter 33: Puppy Love
How could I not fall for her? She was gorgeous. I loved her from the first moment I set eyes on her. She was shy and a little timid in her surroundings. But I think she noticed I was smiling and that helped her settle.
"Hello there!" I said tentatively. "What's your name?"
Her eyes were open, honest, and expectant. Fluffy brown and black hair washed over her face and thickly covered her ears. It moved in a mass as she turned her head and took in all the attention. I stretched my arm out to greet her. She surprised me when she lunged forward and took a bite at my fingers.
"Wow, she's feisty!"
"Yes, she is!" agreed daddy. "Does she have a name yet?"
"Not yet," confirmed Mr. Williams. Turning to me, he continued, "That privilege is reserved for you, young man, should your father allow it."
"Of course he can name the dog. After all, she is going to be his to take care of."
"Thanks, daddy. I'll give her a great name, you'll see. And I'll do a really good job of looking after her too."
"I'm sure you will."
The little puppy licked her nose, yawned, and lowered her head back into her box.
"Is she tired?"
"I think so. Puppies sleep a lot. Just like babies."
"Then we'd better get her home. Thanks again for selling her to us."
Mr. Williams, a good friend of daddy's, was a Ghanaian who had made Zimbabwe his home. An entrepreneur and a trader, he could get his hands on almost anything. Even cute puppies.
"Before we go, what breed of dog is she?" I inquired. "I've never seen anything like her."
"Ha! A great dog is this one. She is a mix between a Saint Bernard and a German Shepherd. I think that makes her a Saint Shepherd."
"Yikes! She's gonna be huge!"
"You can say that again," laughed daddy. "Just look at those paws. They're massive."
"Too right! Thanks again daddy. She's the best dog ever!"
"I'm glad you think so, son. Hopefully you will be the best dog owner too."
For years, daddy had been fighting an uphill battle to get us boys to take greater initiative for the care of the dogs we owned. Bongai and I loved playing with them, but we struggled to keep up with the basic chores that were essential for their wellbeing. Like feeding them and make sure they had access to water. The obstacle for us in our lazy youthfulness was the labor involved in preparing their meals and serving the full pack of them.
Today as I watch my own kids feed their dog, it is hard to believe how easy this generation has it. My sons' puppy is a beautiful brown Standard Poodle called Hunter, whose affection is tough to resist. But the boys have it cushy. At mealtime, all they need to do is scoop a few cupfuls of pellets from a bag and drop them into Hunter's bowl. That is it. Feeding requires no more than thirty seconds of effort. Try an hour and thirty minutes for the exercise we went through back in the 1980s. We were our dogs' personal chefs. We made all their food from scratch. Every meal. Every dog. Every night.
Manufactured dog food was available in Zimbabwe, but it was a little too refined for our shi-shi-foo-foo-disliking dogs. They were meat-and-potato canines. Or I should say meat-and-sadza hounds, because that is what they ate. Now, cooking sadza is a big deal. It is not for the fainthearted. It requires elbow grease and a strong set of biceps. Especially when preparing a big pot for ravenous dogs. Sadza is maize meal cooked in boiling water over a blazing hot stove. The mixture needs to be stirred continuously until it thickens to a consistency well beyond that of a heavy porridge or American grits. The more it thickens, the more muscle is required to stir it. In this way, cooking sadza is a great substitute for hours at the gym.
Getting the meat prepared was much easier. Whenever daddy bought beef for the household, he would ask the butcher to throw in some offcuts and bones. These we would store in the freezer in manageable plastic packets. Whoever was responsible for feeding the dogs each night would retrieve a frozen bag of bones and scraps and boil them, seasoned with salt, a little oil, and mishmash of vegetable leftovers. Once ready and cooled, we would carry the sadza and goulash out to the dogs and fill their bowls with food. Our otherwise patient and restrained dogs would lose their minds at mealtime. They would bark and jump, and sometimes even growl at each other if one of them forgot its place in the mealtime pecking order. It was never a good idea to linger after every dog had received its plate. Our dogs hated being disturbed as they tore into their food. The mistake of standing too close, or touching them while they ate, was one you would be sure to regret.
"Daddy," I called out, as we drove away from Mr. Williams' home. "I really like this puppy."
"I'm glad you do."
"And I think I have a name. I want to call her Rusty."
"Excellent. Why Rusty?"
"Well, she's as strong as iron and her brown and black coat reminds me of rust. So . . ."
"I like your thinking. Rusty it is!"
For her first few weeks with us, Rusty lived in my bedroom. It was easier that way for me to keep track of her needs on a 24/7 basis. She had to be bottle-fed initially since she was newly separated from her mother. Each day, I held her, played with her, and cleaned up her poop and pee. At night, I covered her with a small blanket to keep her warm and cozy. It also helped limit how much she might whine while I was trying to get some shuteye. Mommy and daddy were oddly unsympathetic whenever I complained about sleeplessness. They laughed energetically as I communicated how difficult it was to raise a young creature.
As Rusty began finding her feet, I took her outside for short periods of time. She needed the sun and I wanted the three Rhodesian Ridgebacks to become familiar with her. Ginger, Digby, and Rex did not know what to make of Rusty at first. They growled initially, then sniffed her up and down and prodded her with their paws. Rusty was no fool. She used her cuteness to her advantage. When the much bigger dogs approached her, she would roll onto her back or lay down on her tummy, making herself as small and as submissive as possible. She would whimper in a way that sounded defenseless, and yip in a manner that was playful.
The Rhodesian Ridgebacks soon adjusted to her scent. Also her movements, mannerisms, and quirks. Sensing their acceptance, Rusty became more daring in her liveliness with them. She would waddle over to them, her paddy paws clumsily maneuvering her comically unbalanced frame. She would bump her rotund puppy-fat belly against their hind legs as if trying to topple them over. Of course, they would simply lift their paws above her and watch her crash to the ground as they walked away. If the Rhodesian Ridgebacks laid themselves down, Rusty would measure out a run up and then scramble onto their necks and backs. She would try and hold on or chew on their ears until they gently rolled left or right and dislodged her from their fur. They did not mind her silliness and perhaps even quite enjoyed her antics and distractions.
Rusty grew quickly and was soon an adult. She and the three other dogs became inseparable as we incorporated her into the flow their daily activities. She made a swifter transition than I had expected from playful pup to vigilant guard dog. It was amazing how much she transformed as she grew. But Rusty was not the only one going through change. She had come into my life at about the same time as basketball. At first, I had no difficulty engaging one without compromising the other. However of the two, basketball was increasingly more demanding and much more difficult to neglect. I soon began to spend the majority of my free time bouncing a ball with my boys. The quid pro quo was the diminishing allocation of attention that went into playing catch with the dogs and their toys.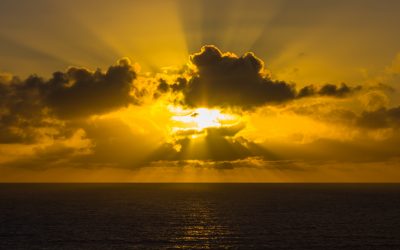 Aside from the title, any writing assignment we did at St. George's College required inclusion of the date and the initialism A.M.D.G. (abbreviation for Ad Majorem Dei Gloriam). The latter was a reminder for us boys. A prompt to help us put into practice a foundational principle of our school community.