Childhood Shorts – Chapter 34: Gone to the Dogs
Ross once told me it was possible to die from breathing in a single strand of a dog's fur. I believed him. Not because it was necessarily true, but because Ross was the one who had said it. When he wanted to, the kid could be awfully convincing.
"You see," said Ross, "the human lung is not designed to deal with foreign bodies, especially fur. That's the worst. Get a dog's hair in your lungs and you're done. The chemical reaction is toxic."
"Chemical reaction?"
"Between the fur and the acids in your lungs."
"Wait, there are acids in my lungs?"
"Yes. Everyone has them. They break down gas and stuff."
"That can't be right."
"Do you want me to explain or not?"
"Go on."
"Anyway, breathing air in and out is totally fine. But dog's fur is hazardous. As I said, the chemical reaction is toxic. Just one single strand of fur . . . and BOOM! Your lungs will explode."
"Come on, man. Explode?"
"Explode."
"Umm."
"Okay. So explosions don't happen all the time. Sometimes, the reaction actually clones the dog's hair follicles multiple times until your whole body becomes a furball."
"What?"
"Yes! A furball. In the worst cases you can end up looking like a tacky accessory from the 1970s."
"That's silly."
"It's not silly. It's ugly and deadly."
"You're crazy."
"Not crazy. Trust me. You don't want to become a walking shaggy carpet, now do you?"
"Of course I don't."
"No, you don't. Apart from looking terrible, it will also be the end of you."
"Why do you say that?"
"You ever try breathe through a mink coat? You can't, can you?"
"No, I suppose not. But then, answer me this. Why in the world are you sitting here playing with this puppy right now? Aren't you concerned?"
"Well, you know me, my friend. I like to live on the edge."
"Yah. Right on the edge of sanity."
Ross smiled as he nuzzled his face and nose further into the fur of the little canine we were cuddling and wrestling on the kitchen floor. As he leaned in, I created some distance between me and the pup. Just in case. You never know.
"But I've been around dogs all my life," I told him.
"Yes, but babies and little kids are immune. Their lungs are not yet fully developed and do not have enough acid to cause the reaction. Now that you're older, your risk is higher."
I backed up a little more.
"I don't know, Ross. You know how you are. I'm finding it hard to believe you right now."
I edged further away.
"I'm telling you, man. Trust me. Have I ever led you astray?"
"You really want me to answer that?"
"Anyway, I like this puppy. What's she called?"
"I named her Rusty."
"Nice. It suits her."
"I know."
"But hold on. Why are you all the way back there? On the other side of the room? I thought we were playing with Rusty together. Why did you suddenly bail?"
"Ah, no reason," I replied. "Not bailing. You know, just stretching my legs."
Rusty was not our first dog. But she was the one I put the greatest effort into raising. Over the years of my childhood, we were surrounded by several dogs at our home. I think we may have run through as many as fifteen by the time I headed off to university. During my teens, we lived in a house that had a decent-sized yard. Mommy had a green thumb and enjoyed planting and tending to flowers, bushes, and trees. Daddy loved growing vegetables and rearing all kinds of animals. Their collective interests and cultivation made our suburban yard and garden a delightful ecosystem of diverse flora and fauna. Mommy's roses, lilies, and chrysanthemums were a kaleidoscopic rainbow of color and beauty, while daddy's rabbits, and goats, and dogs made for quite the animal farm.
The rabbits, of course, were fluffy and cute and were tasty when included in a stew. The goats were intimidating. Their brains were too small and their thinking too simplistic for them to be trusted with those sharp hooves and horns. The dogs were my favorite.
Any animal endowed with the ability to bark "Woof," could only have been created to serve as man's best friend. "Woof," with its complex range of articulations is a one-size-fits-all locution that encapsulates a complete language. Woof can mean a lot of things, "Wussup," or "I'm hungry," or "I don't trust you," or "squirrel." Woof makes canine expression both efficient and surprising. In fact, behind apes and dolphins, dogs are potentially the third most communicative species in the animal kingdom. But when it comes to domestication, affordability, and the general legality of having them as pets, dogs easily trump the other two.
Is there any creature more fun than a dog? A lot of animals like to play, but there is no guesswork involved when a dog is having a blast. They yip and yap. They jump and scurry. They roll around and give hugs. They play fetch. They swim. They chase and they hide stuff. Boy, do they hide stuff. Most of all, dogs have a unique tell for their joyousness – they wag their tales. No other animal does that when happy. Only dogs.
Beyond happiness, dogs have an impressive range of other observable emotions. These include sadness, and ambivalence, and anger, and fear. Dogs can even express their need to pee as an emotion. The same goes for their penchant for chasing squirrels. In some ways, their capacity to emote makes dogs a fluffy, long-tailed reflection of human beings. That is possibly why they are such good pets for grownups and playthings for children too. Dogs reciprocate our feelings.
As a child, I was a sucker for any book, cartoon, television show, or movie that featured dogs. I watched Mickey Mouse (1928) because of Pluto. Garfield (1978) was fun because of Odie. Snoopy made Charlie Brown (1950) memorable. Lady and the Tramp (1955) was a classic. Clifford the Big Red Dog (1963) was larger than life. Augie Doggy and Doggy Daddy were great on The Quick Draw McGraw Show (1959). Wallace and Gromit (1989) would have been incomplete without Gromit. Nobody was smarter than Brain in Inspector Gadget (1983). Timmy rounded out The Famous Five (1942). Dogmatix brought out Obelix' soft side in Asterix (1959). Snowy gave nuance to The Adventures of Tintin (1929). 101 Dalmatians (1956) was a dog-lover's extravaganza. Scooby-Doo, Where Are You! (1979) was pure genius, and Goofy, the 1932 creation of Walt Disney Productions, was a comedy savant. The live dogs in television series and movies were splendid too. You could not go wrong with Toto from The Wizard of Oz (1939), Old Yeller (1957), Benji (1974), Turner and Hooch (1989), and of course, the best of the breed, Lassie (1954).
Our first dog in Zimbabwe was an Alsatian (German Shepherd), whose name I forget. I think daddy intended him for a guard dog but he did not excel at the job. He was timid around people and would back away from strangers even as he barked at them. The Alsatian also had wanderlust. He was continually trying to run away by scaling the fence between our house and the neighbors. Sadly for him, his attempts were rarely successful. He once accidentally wedged a front paw between two connecting wires in the fence. You could tell it hurt by his howling. However, he must have had brain damage, because he was back at it again as soon as his paw had healed.
Although the Alsatian had limited utility as a defense mechanism for our home, we children found him useful. Growing up in the 1980s, my siblings and I were part of the global generation of latchkey kids. Not that we were left completely alone when our parents were at work. But we were afforded high degrees of freedom to go and do whatever we desired. Mommy and daddy only required that we stay alive and stay out of trouble. Beyond that, we had general autonomy to discover what we might and interact with the other children in the neighborhood.
Sometimes our excursions had us away all day, returning only for meals and naps. The long outings often had protracted periods of downtime when we struggled to keep ourselves occupied. In the stillness, our restless hands and itchy feet were easily tempted to conjure up ill-conceived forms of mischief. It is from these laboratories of idleness that foolhardy endeavors, like our canine fight clubs, emerged.
"Why are you looking at me?"
"At you?"
"At me."
"Because I'm taller than you."
"So?"
"So, I'm better than you."
"Better than me at what?"
"At everything."
"Like what?"
"Well, I'm stronger than you."
"So? My parents have a better car than yours."
"Don't care. My dad has a better job than yours."
"So? We've got an Alsatian."
"And then? We have a Doberman."
"I bet my dog is fiercer than yours."
"No it isn't."
"Yes, it is."
"No, it's not."
"Yes, it is."
"Prove it."
"Okay. Bring your dog here and I'll show you."
"What do you mean?"
"I dare your dog to fight my dog."
"That's stupid."
"Why? You scared?"
"No. I'm just worried for your dog. That's all."
"He can take care of himself."
"We'll see about that."
This was the type of neighborhood challenge from which you could not back down. Street cred demanded that you sprint home and return immediately with your hound on its leash. Then the protocol was to let the dogs lean in and bark as they sized each other up. Our Alsatian was belligerent with other dogs and could make a convincing racket. Sometimes they backed off. Other times they held their own. Since we never actually allowed the dogs to fight each other, it was all a bit of an exhibition. No animals were harmed in the demonstrative posturing of our childish egos. I suppose calling these exchanges "canine fight clubs" is a little over the top. They were more a "war of woofs" than anything else. A good thing too. Otherwise, staying alive and staying out of trouble, as our parents had required, might have been unachievable.
We did not have the Alsatian long. One day, he disappeared and our searches for him came up empty. Then came the dreadful news that the dog had been poisoned and had died. Soon thereafter, daddy brought home Skippy and Gundwan, two purebred Schipperke puppies that were just lovely. The two pointy-eared Belgian sheepdogs had black coats and were short in stature. They were friendly in demeanor, faithful, playful, curious, independent, and confident. Skippy died too early, but Gundwan lived to a ripe old age. He was the smallest dog we ever owned, but he had the biggest personality which he used to dominate other dogs three or four times his size.
I was about ten when daddy introduced Rhodesian Ridgebacks to our household. Unique to southern Africa, Rhodesian Ridgebacks are a crossbreed between the native ridged hunting dogs of the Khoikhoi people from the Cape Peninsula, and European dogs like Great Danes, Grey Hounds, and Terriers. The Khoikhoi hunting dogs were known for their viciousness, loyalty, and endurance. They were formidable hunters capable of bringing down prey and fending off predators as large as lions. As a new hybrid, the Rhodesian Ridgeback, with all the attributes and characteristics it assumed from both its African and European heritages, is sometimes described as an "all-purpose renaissance hound."
Rhodesian Ridgebacks are typically but not always a splendid golden-brown color. This breed derives its name from the raised ridge of fur that runs along its spine in the opposite direction of its coat. They are large dogs, tall and heavy. They are intelligent, emotional, protective, and affectionate with their owners. They also have honed predacious instincts. Rhodesian Ridgebacks are strong-willed and respond to being guided firmly. But inattention to their needs can get you in trouble.
Over the years we had a number, but Ginger, Digby, and Rex where the Rhodesian Ridgebacks I most enjoyed. I watched them grow from puppies and I spent significant time playing with and rearing them. Ginger was the only female among the three. They were enjoyable pets as younger dogs but became exceptional guard dogs as they matured. We gave them a predictable daily schedule. In the mornings, they played and greeted us as we prepared to go to school. They spent the afternoons in their kennels. At night, they roamed the yard, chasing rodents and keeping out unwanted visitors.
Our dogs were to be taken seriously. Cane rats that acted too nonchalant around them would wind up as bloodied carcasses. Gifts that the Rhodesian Ridgebacks would leave for us on our kitchen doorstep in the wee hours of the morning. Passersby who dawdled on the road outside would often be recipients of unexpected exercise if ever we mistakenly left the gate wide open and the Rhodesian Ridgebacks caught such people lingering. They therefore had a reputation in the neighborhood and folks were wise to avoid them.
Sometimes, the fact that they were feared came in very handy. I am thinking of the day in the mid-1980s when Ross, Bongai, and I were enjoying some guavas that had ripened on a tree in the garden at our home. We were close to the gate when a group of boys playing in the street decided to taunt us for not sharing our fruit.
"We shouldn't have to put up with this," exclaimed Ross. "Why don't we teach them a lesson?"
Before we could ask Ross what he was thinking, he started making his way to the gate. Bongai and I followed, and the three of us confronted the group of boys in the street.
"Why are you guys being so rude?" inquired Ross.
"Give us some guavas."
"Guavas? No. Eat your own."
"We don't have any. You have lots."
"So? Go buy some."
"Wati chii? (What did you say?) Buy some? With what money? We are not rich white boys like you. Futi (also) we can just take yours. Give them to us now!"
"Never! You can't make us!"
Ross had that look in his eyes again.
Before the crew of boys could respond, Ross flicked his half-eaten guava into the face of the closest kid next to him. Its pink seeds and flesh splattered across the boy's forehead and cheeks. Its juices dripped over his lips and down onto his shirt. He was livid. Ross was laughing. The boy's comrades were holding back their giggles, pretending to be equally offended.
"Now you're gonna get it. You put fruit in my face, I'll make your face like a vegetable."
"I'd like to see you try."
I nudged Ross in an effort to get him to cool it.
"How brave," the boy jeered sarcastically. "Only three of you and seven of us. We've got numbers and we're bigger. Tinokumamisai mese (we'll cream you all)."
"Maybe. But, don't forget where we are."
"What do you mean?"
"You know about this house, right?"
"The house?"
"Well, the dogs really."
"The dogs?"
"Yah, we left the gate open."
"What?"
"The gate."
"You left it open?"
"Yup. See for yourselves."
"Why would you do that?"
"Oh, just in case."
"But the dogs are locked up, right?"
"Are they locked up? I can't say for sure. Mubuso? Bongai? Did you guys leave them locked up?"
The two of us finally caught on to Ross' ruse. We maintained the misdirection by shaking our heads and shrugging our shoulders.
"Isn't that Ginger coming down the driveway?" continued Ross.
"For their sake, I hope not," I contributed, doing my best to improvise. "Ginger never listens. She always just flies out and chases people whether we try to stop her or not. Oh, boy," I added. "I think I see her charging down now."
"Ah, come on guys," the fruit-faced boy called out. "There is no need for all that, handiti?"
"You should have thought of that before you started insulting us."
"Sha. But guys. We were just playing. Just jokes, maguys. Just jokes, eh?"
Ross was still glancing over his shoulder at the gate. So were Bongai and I.
"I think it's too late. She's coming."
There was a rustle of tennis shoes sliding over the loose stones in the tarmacked road. The group of boys decided to make a run for it. Not one was willing to wait and see if Ginger was actually on her way.
"That will teach you!" bellowed Ross in between hearty chuckles.
"Iwe, Ross, une musikanzwa! (You're trouble)" I chided.
"We saved the day, guys. That was excellent."
"Well, we survived, but let's not do that again."
"Why not?"
"Why not? Because we could have gotten beaten up. They were bigger than us."
"They wouldn't have hit us."
"They wouldn't have hit you."
"What do you mean?"
"You're the white guy, Ross. Nobody wants that kind of heat."
"What heat?
"The heat of your mother demanding to know which black boy bloodied the nose of her precious son."
"Argh man. You know my mom. She'd probably say it served me right and then invite those boys over for tea."
"Yah, I know that. But those guys don't know your mom. That's why they wouldn't dare swing at you. But they'd gladly punch Bongai or me."
"Okay. You've got a point."
"Thank you."
"I understand."
"Great."
"So next time, we'll just throw guavas at their faces from inside the yard. And keep the gates closed."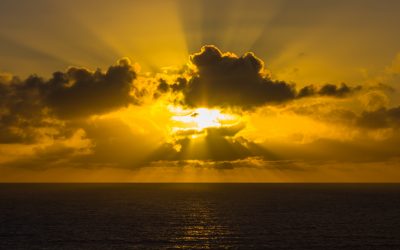 Aside from the title, any writing assignment we did at St. George's College required inclusion of the date and the initialism A.M.D.G. (abbreviation for Ad Majorem Dei Gloriam). The latter was a reminder for us boys. A prompt to help us put into practice a foundational principle of our school community.