Childhood Shorts – Chapter 36: Latchcar Kids
I spent a good portion of my early childhood in the car. Babysitting options were rather limited back then and we were too young to stay home alone. Mommy therefore took us everywhere. On visits to see friends, to appointments, and on her various tours of chores. We rode along in the backseat. Without seatbelts, of course, because it was the 1970s.
Practically everyone who drove had a French automobile. Renaults, Peugeots, and Citroëns filled the roads in cities across sub-Saharan Africa including Lusaka where we lived. The Citroëns were my favorite. I was mesmerized by their hydropneumatic suspension. It made the chassis height adjustable and produced a smooth, sliding, pimp-would-be-proud quality kind of ride on any surface. Despite how comfortable and responsive they were, the French vehicles could not insulate their occupants from all the vagaries of travel on the Zambian roads. Our family had more than once experienced a hair-raising episode. We had hydroplaned for several feet during a torrential rainstorm. We had been t-boned by a recklessly inebriated road hog. One time, the parking break accidentally disengaged. The car rolled backwards into the road, driverless but with us kids on board. Dini jumped out and saved herself. Pei and I just froze. It took daddy's speedy reflexes to prevent either of us from coming to any serious harm.
Outside of incidents such as these, automobiles were safe spaces. So safe that mothers habitually left their children alone in parked cars while they tended to errands around town. They did so under an arrangement I like to call the "latchcar" compromise. It represented an implied social compact between society and mothers. Much akin to the latchkey kid phenomenon, the latchcar compromise established mutual commitments between the parties. The general public agreed to look away and not castigate mothers for having cars babysit their children. In return, mothers followed through and left said children in said vehicles. Thereby sparing society the inconvenience of witnessing pre-adolescent children parade themselves all about the public square in the middle of the day. Society's reward was peace of mind. The incentive for mothers was blame-free efficiency in getting things done.
I think we can all acknowledge that motherhood is a beast. There has never been a time when raising children was not hugely difficult. Mothers are expected to do everything. If ever they fail to reach any of the impossible standards society imposes upon them, women are rebuked and chastised as bad mothers. Whatever choices they make, mothers can never win. Those who stay at home with their children are judged for having no ambition. Those who work outside of the home are accused of having no maternal instincts. It is your basic catch-22. In the eyes of society, mothers are damned if they do and damned if they do not.
Which is why the latchcar compromise was such a welcomed arrangement. It safeguarded mothers from the hazard of bringing little hands and little feet into wholly unnecessary, unfit, or unsafe environments. It also spoke to a universal truth, that children and chores do not readily mix. Sometimes tasks may put kids at risk. Other times kids may put tasks at risk. In either case, mothers risk being put to task by society should child or chore be failed.
During the 1970s, our mother very keenly recognized the opportunity in the latchcar compromise. She drew liberally upon the dispensation to accomplish whatever she needed. There was hardly a place in Lusaka where we did not sit locked and adultless in a car waiting for mommy to return. Not the supermarket. Not the department store. Not the bank or the post office. Nowhere was the use of the latchcar compromise inappropriate. In fact, I have no doubt, if she had thought of it, that mommy would have happily shut us in the car at home while she cleaned up the messes we made in the house.  
It sounds cruel, but our frequent vehicular confinement was not all bad. We were enclosed in the comfort of a French automobile after all. A vehicle fitted with plush upholstery and highly engaging gadgets. There were cigarette lighters, windscreen wipers, indicators, window handles, reclining front seats, and AM/FM radios with fun nobs and buttons. These were plenty to keep us busy. They were all out of bounds, of course. But whatever mommy did not know was whatever mommy did not know. Besides, we also had each other. A latchcar kid was never a solo. Not in our family anyway. Mommy ensured we were always paired or grouped. That way, we could keep company, mutually temper anxieties, and help each other stay out of danger. Rest assured, the latchcar experience never made us feel trapped or unfree.
Aside from providing a wonderful ride, serving as an excellent waiting room, and doubling as an exciting playground, the French automobile we owned also facilitated one of my first introductions to madness. I am referring to a visit we took with mommy to see a patient at Chainama.
A fixture of another form of social compromise, Chainama was Lusaka's main institution for mental health. Zambia, much as the rest of the world during the 1970s, had made poor accommodation for people living with mental health challenges. Superstition, shame, denial, and ignorance were powerful forces that dulled society's ability to demonstrate appropriate compassion and care. Instead of being supported by their families and communities, people living with mental health problems were largely ostracized as the "crazy", "disturbed," "retarded," or "possessed" outcasts of society. They were treated as the lepers of the modern era and were bundled into "colonies" like Chainama.
The institution itself was a hospital, but it had in those days the rather odious reputation of being an asylum. The distinction is important. In hospitals, patients receive intervention because they are considered to be at risk. In asylums, however, patients receive intervention because they are considered to be a risk. Hospitals help people get back around into society, whereas asylums help get people into the background of society. Hospitals are designed for temporary admission, while asylums are intentioned for permanent residence. When I think of hospitals, my mind draws me to shows like St. Elsewhere (1982 to 1988) and Doogie Howser (1989 to 1993). But when I imagine asylums, movies such as One Flew Over the Cuckoo's Nest (1975) are what come to mind. For many people in Lusaka, institutions such as Chainama were places where Halloween played on loop all year round. They imagined the corridors were replete with ghoulish, ghostish, and zombified semi-humans. They envisioned them aimlessly marauding about the building alongside serial killers and demented jokers like the one in the Batman movies. Given prevailing apprehensions about the place, patients in residence at Chainama rarely received visitors.
I think perhaps that is why mommy made a point of going. When it came to loving people in need of care, mommy was a modern-day Florence Nightingale. She was nurse by training, empathic by nature, and a diligent server at heart. In our own childhood experience, we knew mommy to be the best bandager of booboos, the fastest foiler of fevers, and the perfect pacifier of pain. She never shrunk back, even when things got ugly. Through violent vomiting and disgusting diarrhea, mommy held our hands, stood her ground, and even painstakingly cleaned up after us. When tending to others, mommy's superpower was the ability to distinguish between the person and the ailment. She never got them confused. She neither judged the person by the ailment nor prioritized the ailment above the person. She had the ideal bedside manner. With her, patients felt both seen and heard. Importantly, they also retained their sense of dignity. As far as mental health was concerned, mommy's attitudes were polar to those of the broader callous and fearful society.
That day at Chainama, mommy left us in the car with her usual set of instructions.
"Keep out of the front seat. Don't play with the instruments in the car. Don't fight or make a mess. If it gets too hot, crack open a window. Don't get out. Keep the doors locked, and don't let anybody in. I'll be back soon."
To keep occupied, Dini, Pei, and I played a series of games. Including "I Spy," where we gave each other conspicuously easy clues to guess.
"Something French."
 "Something you find on the roads."
"Something beginning with C."
Fully engrossed in our call-and-response activities, we were unmindful of the surroundings. We failed to notice a certain man as he began to approach our vehicle. We had no way of knowing he was about to reinforce the stereotypical fears we three, and practically the whole of Lusaka, harbored about mental health. The man, a patient at Chainama, had apparently snuck out of the building. He was taking an unscheduled a walk through the parking lot when he heard the playful pitch of children's voices.
Our gasps and giggles floated like frolicking butterflies. They fluffed into the acoustic cavities of his ears and set his cochleae alight. They continued flying until they connected a trail right from the nerves in his ears directly to the synapses firing in his brain. The dead dullness in the man's monotonous isolation suddenly popped. It was replaced by the spectacular stimulation of the stereophonic surround sound typically found in the interplay between people and planet in regular society. In the same beautiful moment, he heard children's laughs and birds and bees, and the wish-wash waving of leaves in the trees. The vrooming of the engines, and the honking of horns, and the pain in his own voice as his foot pricked a thorn. All of these. He awoke to them all at once. There was sensory overload, but it also made him dance. This was familiar. He had heard a chorus like this before. From that last time his family's light had broken through his door.
The intimate interchanges in our jovial speech had the man transfixed. He beat a path straight to our automobile and brusquely began bashing his fist against the windscreen. The banging almost burst our brains in shock as we had our backs to the basher. We pivoted around swiftly as if we were sat on swiveling sticks. Too afraid to think. We blinked. Then opened our eyes to confront the cause of all the commotion. There it was. The thumping fist. Almost the size of our faces. It belonged to a man in a hospital gown who looked unkept, unkempt, and unwell.
"Leave us alone! Go away! Waaaa!"
Our little ruckus only animated him more. He found the window we had cracked open and tried to thrust his stubby fingers through to touch us. He simultaneously smooshed his face against the pane and pressed a large eyeball into the glass to get a good gander at us. He licked his lips with a tongue that was swollen and dry. Then he cleared his throat "Ahem," as though preparing to give a speech.
"Huh, huh. Hullo. Hullo," 
And again, "Huh, huh. Hullo. Hullo."
The three of us were catatonic. We fell back on our default exclamation. The one we used whenever we faced anguish or despondency as children. Just as Batman had a signal that all of Gotham could shine, we had a mantra for mommy that we screamed right out from our spines.
"Mommy come, we want to go home! Please come, we want to go home! Mommy come, we want to go home! Please come, we want to go home!"
Eyes closed again and our heels click-clacking together, we were each like Dorothy from The Wizard of Oz (1939) wishing our day-scare would end.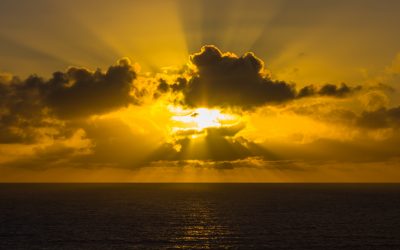 Aside from the title, any writing assignment we did at St. George's College required inclusion of the date and the initialism A.M.D.G. (abbreviation for Ad Majorem Dei Gloriam). The latter was a reminder for us boys. A prompt to help us put into practice a foundational principle of our school community.