Childhood Shorts – Chapter 4: All Things Nice
Despite them taking advantage of me in vexing ways, I could never stay angry at my two sisters. My blood should have boiled, watching them roll over each other on the floor laughing, tickled by the success of their mischief. But their cheeky chuckling was deeply infectious. I often could not help but giggle as well. Any anger I might have built up would often quickly dissipate. Maybe that explains my tendency to fall so easily for their ploys over and over again.
In my eyes, my sisters were pictures of perfection. They were charming, intelligent, and highly competent little ladies. Their capabilities knew no bounds. They could button their own clothes, spread butter on their own bread, and even say the alphabet backwards. They were like princesses to me, precious and poised as they pranced and danced through the playful pageantry that was their childhood. Everything they did was graceful and elegant. This was especially the case whenever they took to the garden with their friends and engaged in a game of jump rope.
Sweat drops on noses, arms flapping like chickens. Bright eyes on rope as it rotates and quickens. Blue shoes with laces that look just like strings. This is the view as they all take their wings. Green grassy garden and brown dusty trails. Bumblebees, guava trees, slow sliding snails. Dogs come a-sniffing, a bulbul bird sings. This is the view as they all take their wings. Girls in bright dresses with pigtails and afros. Smiles as they jump, they are joyous, and it shows. Cartwheels and quicksteps with flips, flits, and flings. This is the view as they all take their wings. When the rope flies, when each girl swings, boy it makes me glad! If I simply were older I too would have wings. And then I would feel so rad.
My two sisters, Lena Mwadini ('Dini') and Mwakandipei ('Pei'), knew how badly I wanted to join in and jump alongside them. However, they also understood that I would neither be able to handle the pace of the swinging rope nor produce the agility and creativity the jumpers displayed as a matter of basic prowess. My toddler-going-on-preschooler body, as it happened, was prize-winning for its lack of coordination. Strength was absent in my limbs and I found it difficult to balance. In truth, a single, continuous swing of the jump rope would easily get my feet all twisted and cause me to topple right over.
Instead of thrusting me into the heart of the action along with older kids, Dini and Pei would invite me into the garden a little before their friends were expected to arrive. There they would treat me to my own private, dedicated, and exclusive session. Jump rope was the name of the game, but 'step rope' or 'stumble rope' might have been the more appropriate way to capture whatever it was that I did. My sisters would lay the rope down and encourage me to step or stumble over it. They would then whip the rope over my head, carefully controlling its spiral. As it came back toward the ground on the other side, they would slow it down and make it settle again calmly in a state of limpness on the earth beside my feet. That would be my cue to jump over the rope again.
Their indulgence of me was very sweet, and they were totally believable as they cheered me on. They did not care how ungainly or uncoordinated I was. What mattered to them was making me feel like a champion, and they regularly succeeded in doing so.
"You did it! You did it! You super jumper, you! Do it again! Show us again!"
When their girlfriends later arrived and the seriousness of jump rope escalated, I would be encouraged to sit very still and observe.
"Buso, stay over there and see how well we do, okay?"
I loved to watch the rope as it took to turning. Its rotation was like that of the winding blades of a propeller on a vintage airplane. It began slow and sputtering. It then would shift to a smooth, sailing sequence. When it settled finally at full pace, it had a swift and slicing spin of speed that made the air around it hum. It sounded like the melody of a myriad of hummingbirds, or the drone of dozens of African honeybees set to flight in harmony. The song it produced was reassuring, and also hypnotic, and all the while alive with life.
The rope as it flicked would lick the ground, and as it did, slap out a beat. Each tap, as though from a snare drum was consistent in its tempo. Adagio when slow and stately, and when quick and bright, allegro. Its pace and continuity would instantaneously infect the feet of the all jumpers lined up as they were, one behind the other, eager to get to jumping. As they entered the cycle and lept over the rope, their landing shoes would make short heavy thuds, like a bass drum filling out the ensemble.
Together, the rope with its hums and its licks, and the feet of the girls with their thuds and their kicks, would create for us all a musical arrangement that brought rhythm and soul to the game.
Thud-tap, hmm, hmm. Thud-tap, hmm, hmm. Thud-tap, hmm, hmm. Thud-tap.
As children born with African hearts, my sisters and their friends could never resist the urge to add lyrics to the organic sounds that were made when the rope took to turning. They drew from a catalog of songs they had memorized. These included the popular songs that captivated the radio airwaves. There were western nursery rhymes that had been grafted into the traditions of the African middle class through the artifices of colonial education. There were also the chimes and chants that pervaded the neighborhood in the local Bemba and Nyanja dialects. These latter were the overwhelming favorites among the girls who came to our house for jump rope.
"Boy. Boy. Boy, boy. Boy.                                            Boy. Boy. Boy, boy. Boy.
Boy. Boy. Boy, boy. Boy.                                              Boy. Boy. Boy, boy. Boy.
Mulishani gelo.                                                              Hey there girl, how are you?
Panono, panono.                                                           I'm so, so.           
Chani chifuwa?                                                              What's the matter?
Chifuwa ne nkola.                                                         I've got a cough.
Ikola timfwe.                                                                  Cough, let's hear.
Oho, oho, oho."                                                             Oho, oho, oho.
 Sweet tricks and poses on beat and in rhythm. Flight-like they rise as the air flows right with them.  Voices are singing most beautiful things. This is the sound as they all take their wings. Criss-crossy clicking, and smiles on each face. Playful moves, swaying grooves, too tough to trace. Oh what a gifting, this skipping it brings. This is the sound as they all take their wings. See who impresses, delights and amazes. Every participant worthy of praises. Bemba, or Nyanja, in English each sings. This is the sound as they all take their wings. When the rope flies, when each girl swings, boy it makes me glad! If I simply were older I too would have wings. And then I would feel so rad.
"Yay! Yippee! That was great!"
These jump-rope sessions frequently ended too quickly for me. Before I knew it, the girls would file back out of our yard and head toward their homes for dinner. As they skipped down the street all I could hear over the wall was the fading gurgle of girlish giggles – evidence of a day well spent.
So went many of our days during the mid-1970s. There, where we lived in Olympia Park, that vibrant neighborhood of ours in the savannah city of Lusaka in Zambia. That is where we were born, at least four of the five of us children of our parents – Dini, Pei, me, and Bongai. We were little colonial exiles as we came to life in Zambia. Indeed, we would have to wait until 1979 to ever set eyes or set feet on the land our parents called home. Only our youngest sister, Mudiwa, has the unique distinction of being born in an independent Zimbabwe.
Daddy completed high school in Zimbabwe (then called Rhodesia) in the early 1960s. Afterwards, he ventured to England to study law. He earned his undergraduate degree at Bristol University and followed with a postgraduate degree in Law at the London School of Economics. Daddy was offered a scholarship to read for a DPhil at Oxford University but decided to forgo the opportunity. He chose instead to relocate to Zambia in 1966 where he joined a cadre of patriots who were using their skills and experience to advance the cause of Zimbabwean liberation. Mommy, who had been based in Rhodesia, came to Zambia and joined him there. They married and set about raising their young family against the backdrop of a turbulent and uncertain period of change in the history of the African continent.
A film I greatly enjoyed growing up is The Sound of Music (1965), which features Julie Andrews and Christopher Plummer in lead roles. It reminds me of my early childhood. Not that we were singers like the von Trapp Family, no. What is familiar to me is the fact that our parents, like Georg and Maria, went to great lengths to shield their children from the whistling winds of political aggravation. As the fight for Africa angrily agitated about us, mommy and daddy created for us a cocoon. It was an idyllic oasis of sorts. Full of fun and play and vitality and, for the most part, free from angst, worry, and care. They made sure that the narrative of our early years in Zambia would produce sugar-sweet memories for us, like jump rope. These we could bank away as a few of our favorite things in the catalog of remembrances that our hearts would carry for us well into adulthood.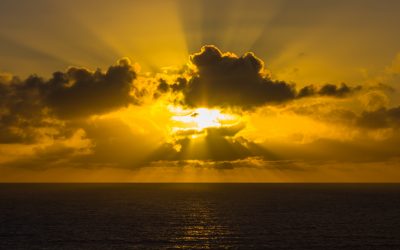 Aside from the title, any writing assignment we did at St. George's College required inclusion of the date and the initialism A.M.D.G. (abbreviation for Ad Majorem Dei Gloriam). The latter was a reminder for us boys. A prompt to help us put into practice a foundational principle of our school community.