Daytime in Zambia was carefree and charming. It was filled with games and gladness and all the wonderful things that make childhood delightful. Nighttime, however, was the exact opposite. In many respects, the dark was disturbing. On occasion, it produced the kind of menacing mayhem that typically makes for exceptional nightmares. There were literally things that went bump in the night, others that caused you to scream out of fright. Or marshalled your instincts to flee or to fight. Or left you, eyes open, wishing hard for daylight. Oh, those nights in Lusaka, they just were not right.
Daytime brimmed with brightness. It had a lightness. It basically invited you to come out, soak up the sun, and be blessed by the gifting of the freshness of air. But nighttime? Nighttime had a shadowy, shifty shade that made even the bravest among us afraid. It had a gloominess. There was a moodiness. It gave you the apprehension that you ought to beware. For good reason. Wicked agendas would form in the night, and the malintent of malcontents was often then laid bare.
It would have been far too much for us to take, the scaredy-cat chills and the lying awake. Yet, somehow daddy managed to paint a tapestry of humor right over the creepy cracks in the nighttime narrative of our childhood. He kept us sane, when by all accounts we ought to have gone crazy. He brought jokes to a setting where despair would have been the more natural response. Daddy made commotion feel like comedy. He caused us to rationalize Olympia Park after dark in much the same way as we might digest an episode of Tom and Jerry (1940 to 1976). An experience full of exaggerated sound and fury, which in the end is best responded to by a good laugh. Daddy helped us hold out throughout those long Lusaka nights, despite how outrightly furious and fretful and frightening they evidently were.
Tom and Jerry is that long-running animated short-film series created by William Hanna and Joseph Barbera. Tom is a mischievous house cat and Jerry, a playfully cunning city mouse who lives behind the skirting boards of the house that Tom protects. The rapport between the two is highly schizophrenic. Jerry is at the same time Tom's arch enemy and also his best friend. They often are at loggerheads with each other, and when they fight, they fight. Frequently, they resort to incredible acts of violence, though in the most uproariously funny and surprisingly memorable ways.
Still, Tom and Jerry are also very endearing in the way they band together. Whenever so compelled by the plot, their conflict becomes comradery and the two adversaries transform into most loyal compatriots. They help each other out, respond to common threats, and even collaborate to solve neighborhood mysteries.
This blend of anxious antagonism and amicable affection is the hallmark of their cat-and-mouse relationship. It is also the secret sauce of the series' enduring status as a runaway hit for several decades. Hanna and Barbera were successful because they so ingeniously understood the human condition. In a world rampant with inequality, the two creators appreciated that scarcity is king. Creatures occupying the same terra firma territory are very much prone, just as Tom and Jerry so wonderfully portray, to fight each other tooth and nail for a limited set of resources and assets. It is scarcity that makes human beings, and even cats and mice, behave in ways most peculiar, and do the strangest of things.
In Olympia Park, these strange things took the form of radical robberies. Post-colonial Zambia suffered inequalities in resources and opportunity that made the environment challenging for everyone, both the haves and have-nots.
"Hey, did you hear?"
"No. Hear what?"
"The family at the corner got burgled again."
"Again? When?"
"Friday. "
"Didn't they just get robbed last weekend too?"
"Yes, last Friday."
"Do they always get broken into on Fridays?"
"No. Only on the Fridays when they have fried chicken for dinner."
"Seriously?"
"Yes."
"Wow!"
"Sure."
"Only chicken?
"Fried chicken."
"Not beef, nor lamb, nor fish?"
"Just chicken."
"I wonder what it is it about fried chicken?"
"I would venture nobody knows."
"You'd think they would stop eating fried chicken."
"Yes, you would. You would, now, wouldn't you?"
"Incredible. Anyway, how's the misses? And, tell me, what are you having for dinner this Friday?"
"Ha! Vegetarian, just to be safe. And you?"
When adults in Olympia Park had conversations about theft, they were fairly nonchalant. It was not the done thing to make a great public hoopla of being burgled, even when you were the victim of the crime. Perhaps this was because households got hit so frequently. Indeed, in our neighborhood, burglary became quite a matter-of-fact occurrence, and a sort of inescapable eventuality. Curbside culture dictated that theft was something you quietly took in your stride. Behind the scenes, however, it was common knowledge that the actual experience of being robbed itself was hurtful and harrowing.
It was stories like the fried-chicken-fiasco that made homeowners suspicious. Many believed that the burglaries in Olympia Park were the product of insider information. They were distrustful of their domestic workers, whom they believed were in cahoots with clandestine criminal cohorts. Perhaps of their own volition, or due to external pressure, homeowners could not say. But they were convinced their domestic workers were making a way for the thieves. How else, they would argue, would the robbers know what they knew? Like what each household had of value, and where homeowners hid the good stuff. Or which of the homes might be easy to burgle, and which of them might be too tough. Or when to strike and when to lay low. Or what time of night was a go or no-go. Only an insider could make all of this known. Perhaps disgruntled domestic workers were throwing beady burglars a bone? Without proof, the homeowners were not positively sure. But this was a prevailing theory that the neighborhood could not ignore.
In defense of their own dignity, domestic workers protested that homeowners were overly paranoid. Lusaka, after all, was rampant with crime, and the criminals were indiscriminate. Moreover, anyone could tell where the valuables were. It was not rocket science. They were somewhere behind the Durawalls that surrounded the houses of the middle and upper classes. Obviously. Burglars did not need any surreptitious messages from domestic workers to figure that out. The fact that homeowners hid themselves behind steel gates and high walls essentially gave it away.
Who is to say? Whether aided or not, the criminals that canvassed Olympia Park treated it like a shopping mall. A perfect place to pick up almost anything on the proverbial "honey-get" list. Clearly, robbers are different from regular mallgoers. Mallgoers by definition actually go to real malls. They do not pilfer property from other people's homes. Mallgoers, for the most part, see fit to pay for whatever they purchase, because shopping is a transactional exchange. Not like thievery. The burglars of Olympia Park were hardly inclined to recompense anyone for the possessions they took. They basically broke in, broke out, and after that they booked. In between their ins and outs, they left their victims spooked.
I should know. I was there. Though to be clear, I was not your typical eyewitness. I confess, I did not see any of the crimes go down. What I did do was hear them. I am not talking about the third-party accounts that were aswirl around the neighborhood. What I mean is that I actually heard robberies in real-time, right as the rogues were wreaking havoc remorselessly throughout our residence. In that regard, I suppose I was more of an earwitness than an eye.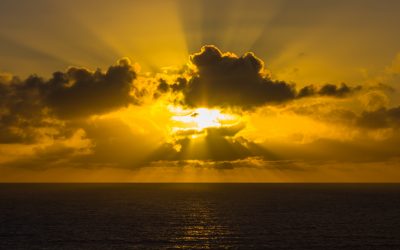 Aside from the title, any writing assignment we did at St. George's College required inclusion of the date and the initialism A.M.D.G. (abbreviation for Ad Majorem Dei Gloriam). The latter was a reminder for us boys. A prompt to help us put into practice a foundational principle of our school community.