Childhood Shorts – Chapter 6: Snakes and Robbers
"Mubuso. Wake up. Go to our room. Be quick and hurry up."
Our household, like many others in Olympia Park, had a burglary-preparedness protocol. If a home was ever invaded, children were to scurry into the safest room in the house and lock the door behind them. Parents, meanwhile would split up. Mothers would typically sneak out of the house to get help from the neighbors. Fathers, meanwhile would patrol the rest of the house and confront the criminals as they came. Some homeowners had guns. Some had machetes. Others resorted to arming themselves with pots and pans, or garden tools like hoes and rakes. Anything they could use to send their assailants a clear message.
"You're messing with the wrong house."
Locked in our parents' bedroom, there was nothing my sisters and I could see. That is why I only heard burglaries and never set eyes on the thieves.
The sounds you hear during a robbery are often quite bizarre. They are close to what I imagine you would hear if you put a three-year old in front of a keyboard, set the settings to sound-effect mode, and let the child bang on the keys. You would get a random distribution of disjointed and dissonant noises.
"Heave. Hup."
Bang, bang. Tip toe, tip toe. Slam, rifle, screech. Tinkle, thud. Footstep. Thud. Window-smashing crash. Clang, clang, rustle, rustle.
"There it is! Aha!"
"Hey!"
"Huh?"
"Stop!"
"What?"
Quick-step, quick-step, quick-step. Huff, puff, thud, puff. Scuffle, tussle, scuffle. Rip, tear. Rip, tear. Crinkle, crackle, bustle.
"Oof. Ouch! Ayee!"
Scramble. Scramble. Hustle, hustle. Breathing. Silence. Peace.
"And stay out!"
When our parents returned safely to their room, we were all a-flutter with questions.
"What happened, daddy? Mommy, are you okay?"
Yes, we're fine! It's alright children, the robber's gone away."
"Did you stop him?"
"Yes we did. He got away with nothing."
"Will he come back?"
"I don't think so. You need not be afraid."
"Will you let us know what happened?"
"We will, but tell you what? Let's first get some sleep, we'll huddle up here, and, in the morning, we'll get up and then we'll speak."
When it was light again, and the sun was back to being bright again, that is when daddy would tell us his tale, over breakfast.
"There I was sleeping with one eye open as usual."
"Wait, daddy. You don't sleep with one eye open."
"I do. Half of my brain is getting rest while the other is keeping watch."
"We don't believe you. We've heard you snore."
"Do I snore through my eyes?"
"I guess not," we giggled.
"There I was sleeping with one eye open as usual. There was a sudden bump. It sounded like the heavy feet of a guy who had too much to eat. Then I heard his footsteps coming to the front door. I got up and woke your mother. 'Someone's here,' she heard me say. That's when she came to get you, and I went the other way. I crept into the kitchen, while mommy went to get help. I grabbed the broom and hid in a corner and waited to give him what for.
"Were you scared daddy?"
"Ha! He's the one who ought to have been afraid. This is my house. Not his. Zamchiya house, it is. And I'm Zamchiya, and so are you. We fear no-one in our own home. In the street, maybe. Perhaps we can be terrified in the street. But in our own home. No. Never. This is where we live."
"We won't be afraid," the three of us echoed. "No, we won't be afraid, that's right."
"If a burglar happens to come to our house," said daddy, "We are sure to give him a fight. And that's what I did. He entered through the front door, right after he broke through the lock. His footsteps led him to the kitchen, and that's where I gave him a shock. He had our kettle in his hands, as if he was dying for tea. I called him, 'Hey!' I got his attention, and that's when he said, 'Goodness me!' I poked him right there in his belly with the top end of the broom. He was so surprised that he dropped his bag in the middle of the room."
"He went left, and I went right to cut off his escape. I could tell by looking him up and down that I was in better shape. 'Bring it on,' I said, 'You're in my house. We play this by my rules. The man who ventures to rob my home is clearly born of fools.'"
"We danced in the kitchen for almost two minutes as he tried to slip away. Then I wacked him in the buttocks and the impact made him sway. He yelled, 'Ayee!' and then he took off and headed for the door. I dropped the broom, reached my hand to my back and pulled out my 44."
"You drew your gun?"
"Yes. It made him run, fast as he fled to the wall. He scrambled right up, and over he went as quick as his limbs could crawl. I fired in the air and it gave him a scare. 'I'm gone, I'm gone, please leave me!' He ran down the street, I could hear his two feet, as he scurried away for safety. He's black and blue, I assure you, for the beating that he took. I shouldn't expect him or his friends to give us another look."
"I have to say, he did impress me with the way he scaled that wall. Especially for a heavy-set man, and a man who wasn't that tall. I tell you, he was impressively nimble and magnificently agile. When he ran, he bounded with an incredible level of style. I think if life had been different for him, instead of these types of tricks, a man of his skill and go-get'em-ism, would have featured in the Olympics.
"Yay for daddy! Yay for mommy. Yay for all of us! The robbers tried to mess with us, but we gave them the fuss."
Daddy enjoyed recounting these stories, and he did so in flamboyant style. He would relay the cat-and-mouse chase between him and he burglars with a chuckle and a cheeky chortle. He would offer gags and songs and slapstick arrangements that made us all laugh long and loud. He would play all the parts in his storytelling and parody everyone too. Himself, mommy, the robbers, of course, and even us children as well. Nobody was spared from his ribbing, nobody as far as I could tell.
As he depicted the events of the night before, daddy's face was a book of expression. A furrowed brow here, a leaping eye there. A scowl and a smile in succession. A wrinkle in his nose and a crinkle of his toes as he worked through the details of his plot. His bottom lip would sometimes quiver as each word purposefully took its spot.
In their living, his words gave us revival, and replaced the fear that would have immobilized us from the previous night's scare. He made us forget that home invasions were serious and, in some situations, could even have been a matter of life and death. To be shielded from the perils of burglary, and to have solace from the terrors of the night, that was a privilege of a blessed childhood. What a mercy to live in a household where parents knew how to fight for what they had.
When not being assailed by robbers, our family faced off other threats. Among them, there was nothing more disturbing than when the snakes came out at night. Whereas people generally had to fend for themselves when it came to burglaries, the fear of snakes was a unifying force in Olympia Park.
"Did you hear about the neighbors down the street?"
"No, what?"
"Ha, la, la! There is a snake in their yard."
"What. No! Are they still alive?"
"Yes, but it ate their goat."
"They lost a goat?"
"A goat."
"Oh, goat. Did they catch the snake?"
"No."
"What?"
"They didn't."
"It's free?"
"It's free."
"Just roaming?"
"Looking for other goats, I suppose."
"I've got a goat."
"Sorry for your loss."
"What? We should do something."
"We should, shouldn't we?"
"Why don't we all move away?"
"Is that practical?"
"If it saves my goat. I'm not about to play Russian rattle snake with Billy."
"Original name for a goat. Anyway, I don't think it is a rattle snake. Probably a python."
"And that's supposed to make me feel better? Look, can I use your house-phone?"
"What for?"
"To call my wife and tell her to move Billy into the guest room."
"I'll let the neighbors know we are coming to help with the snake."
We Zamchiyas did not have a goat in Zambia, but we did have a ginormous snake in our yard one night. It found its way into the garage. We might never have known except that when daddy came home his headlights caught it slinking behind a cardboard box. When he saw it, daddy backed up the car, closed the garage door, and called the gardener to help him. They armed themselves with sticks and blades and went back into the garage to deal with it.
I did not see the snake at all, but like the robbers, I heard the whole thing.
Hiss. Crack. Hiss. Smack. Crash, flurry, flurry.
"There it is. Give it a hit. Hit it, hurry, hurry!"
Swing. Hiss. Stab. Hiss. Slam, slam, boot.
"Did you get it?"
"No, I missed it."
"Oh, you missed it? Shoot!"
"There it is! Go for it!"
Clackerty, clackerty, clack.
Scary hiss. Swacking hit. Hackerty, hackerty, hack.
Daddy and the gardener emerged from the garage looking like two men who had just been to war. In their eyes you could see that this had been a battle, and they were not the same men as before. They disposed of the snake, but unlike the robbers, daddy would not say much about it.
"We're all safe now."
By the look in his eyes, none of us children would doubt it. But as I laid down my head to sleep, I found myself eager to learn how to keep one eye open and the other eye closed. Part of me watchful as the other part dozed. The fear of snakes kept me awake. It chilled my bones, and it made my hands shake. Still, as I drifted off to sleep that night, my daddy's smiling face was the last thing in my sight.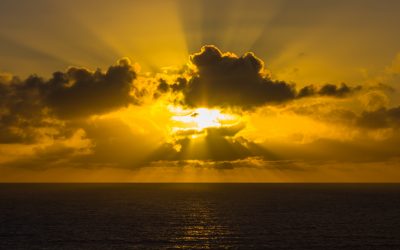 Aside from the title, any writing assignment we did at St. George's College required inclusion of the date and the initialism A.M.D.G. (abbreviation for Ad Majorem Dei Gloriam). The latter was a reminder for us boys. A prompt to help us put into practice a foundational principle of our school community.