Childhood Shorts – Chapter 7: The Life of Bugs
Nothing unnerves me quite like snakes but bugs I do not like. If I am being honest, I have never really appreciated them. I find them to be totally creepy, crawly, and vexatious. Having said that, I do not abhor them all equally. Some I detest more than others. Like flies, which are at the very top of my love-to-loath bug list. They are loud, pesky, and infuriatingly defiant. They are also disgusting in the way they cause illness and spread disease. Yet, they rank number one for me mainly because of the symbol they have become for African poverty.
If it were not for that, mosquitoes would have had top billing. As it is, they are number two. I hate those miniature vampires. Although, as I have recently discovered, it is only the female mosquitoes that cause me trouble. Apparently, the males are not bloodsuckers. It is said they only feed on the nectar of flowers – as they should. But I am not an entomologist. I do not spend my time studying insects. I therefore cannot tell the difference between the males and the females. I am therefore left with no other recourse but to kill them all: the females for what they do, and the males for being in the wrong place at the wrong time. Sorry, chaps.
Spiders are next. They give me the heebie geebies. Especially the hairy ones, the ones that jump, and the ones with the super-huge eyes. I believe I have already had my lifetime-share of altercations with spiders. Not too few times have I been entangled in their webs. At one point, if I could have waved a wand, I would have wished the entire planet of spiders well away. Thankfully though, I became enlightened to the fact that spiders actively devour flies and mosquitoes and other common indoor and outdoor pests. To rid the world of spiders, then, would be self-defeating. I have therefore made the pragmatic choice to tolerate the arachnids. Where I can, I apply a live-and-let-live policy in my engagement with them.
When it comes to bees and wasps, I generally tend to stay out of their way. Self-preservation 101. Though, I must say, I greatly appreciate the effort bees put into making the world a sweeter place by producing honey. In fact, I am saddened by their diminishing populations around the world. I wish them a resurgence, for their sake and ours. Along with all the other bugs that pollinate plants and help put food on my plate.
Ants I am actually ambivalent about. They are hard workers, they sweep up crumbs, and they usually leave me alone. All good points in their favor. However, ants are also militant omnivores that can be a force to reckon with when they march in battalions. It consequently goes without saying that I am cautiously respectful of the army ant and fire ant varieties.
Termites on the other hand must die. They are pirates, opportunists with an economic bite, literally wired to eat man out of house and home – and I tell you, that is not cricket.
Speaking of crickets, they belong to an intriguing family of bugs that includes locusts and their cousins, grasshoppers. Together, they are among the few bugs God identifies as being good for people to eat (Leviticus 11:22). Yet, these same insects have formidable powers of devastation and are used by God, both physically and metaphorically, in the judgement of nations (Exodus 10 and Revelation 9). This duality in nature – being both delicious and destructive – makes crickets, locusts, and grasshoppers some of the most fascinating bugs in the universe.
Ordinarily, I would have no reason to dislike them. I am not a farmer, and by grace, I have never been afflicted by their hordes. However, as a child, I did have an aversion toward them, especially grasshoppers. This was not some unimaginative phobia. No. My reasons were justifiable. They related to a rather unnecessarily upsetting interaction I had with grasshoppers when I was just three years old.
The year was 1876. Now, I know what you are thinking, and you are being silly. Of course I was not three years old in 1876. How would that make any sense? What I mean is the circumstances that led to my brush with the grasshoppers actually had their origins in 1876 – and in Montana of all places. That was the location of a vital battle between the warriors of the Lakota, North Cheyenne, and Arapaho people of North America, and the 7th Cavalry Regiment of the United States Army. The Native Americans in this fight were led by Crazy Horse and Chief Gall while the white Americans marched behind Lieutenant Colonel George Armstrong Custer.
Among Native Americans, this conflict was referred to as the "Battle of the Greasy Grass". In white America, the struggle is often popularly called "Custer's Last Stand." However, it is also widely known as the "Battle of Little Bighorn." This is because it took place on the southeastern plains of Montana, along the banks of the Little Bighorn River.
Shortly before the battle ensued, the Native Americans were engaged in a ceremonial tradition known as the Sun Dance. As the story goes, Sitting Bull, a Lakota spiritual leader, is said to have had a vision. In it, he saw white soldiers raining down into the Native American camps like grasshoppers falling from the sky. This vision came to him at the same time that the U.S. Army was forcing the Lakota and Cheyenne peoples back onto reservations. Sitting Bull's vision inspired the Native American uprising that decimated Custer's ranks in the well-chronicled battle that followed.
Exactly one hundred years later, in 1976 to be precise, my parents enrolled me as a three-year old in a Lusaka preschool program. Believe it or not, the name of the creche was Little Bighorn Nursery School. By all expectations, the institution should have been an early childhood refuge. It should have offered a place of peace for preschoolers away from the insanity of the world outside. Instead, to the anguish of my memories, the creche was a little house of horrors.
I assume things are very different today, but when I attended the school, the teachers and caregivers were horrible. To this day, I am convinced that they truly hated kids. Their philosophy on early learning apparently hinged on the premises that children should be seen but not heard, educated but not inspired, and made obedient but not allowed to be joyful.
After only a few days at the Little Bighorn Nursery School, my cohort of tiny little people and I made the mistake of having too much fun. In the opinion of our oppressors – I mean our caregivers – our running around was too rambunctious, and our laughing a little too loud. We found ourselves, therefore, in a bit of hot water. What happened next would have been unthinkable in a normal, healthy learning environment specifically designed for precious, pintsized people like us. Yes, we were becoming a little too high-spirited that day. I admit that. We were dashing around like Tasmanian devils and we were being rather uncontrollable. Even so, empathic educators would have been patient with us. Perhaps gently pointing out where we had gone wrong, and politely inviting us back into good order. Not so at Little Bighorn. In my opinion, the response of our caregivers that day was outsized and inappropriate.
It all began when they marched us onto the green grass outside the classrooms. There, they lined us up one child next to the other, shoulder to shoulder, as you would parade the condemned who stand to face a firing squad. The caregivers were led by two scary women. One whose eyes were alarming, and the other whose face glistened with guile. Like a cavalry, they advanced upon us in synchrony, their hands hidden behind their backs. As they gazed down upon us little critters, it was evident that in their eyes we were as insignificant as ants.
"You think we like naughtiness? Well, we don't tolerate naughtiness. To help you understand this, we've got a little treat for you naughty little boys and girls."
This is where life became stranger than fiction because time appeared to bend back upon itself. The 100-year gap between 1876 and 1976 seemed suddenly to close. We found ourselves thrust into the heart of Sitting Bull's vision. Not literally. Figuratively I mean. As we stood there on that green grass outside the classrooms, we were like braves looking up to the sky, waiting to see what would take shape.
I doubt you will believe me. But as the caregivers retrieved their arms from behind their backs and slowly loosened their fingers, I tell you no lie, they had grasshoppers in the palms of their hands.
My initial assumption was that the grasshoppers were there for our entertainment, but that expectation was short-lived. This was not to be a playdate. Instead, the caregivers pulled each of us children by the scruff of our necks and dropped the grasshoppers down the front or back of our shirts.
"Want to make noise? Now you can make noise."
The effect was instantaneous. You do not need me to tell you that a panic-stricken child and a bewildered grasshopper, which together occupy the same clothing, do not make for easy bedfellows. In fact, I am surprised the neighbors or the police did not come rushing in to see what was going on for all the commotion that followed. Some children jumped and darted. They flailed their arms in the air. They zigzagged haphazardly and bumped into each other randomly. They were frenetic as the grasshoppers flipped and flopped and pinched and scratched the skin on the small of their backs and their tummies. Others acted like their clothes were on fire. Ostensibly following fire-safety recommendations to the tee, they stopped, dropped, and rolled until they believed the threat had been eliminated. I imagine not a few unfortunate grasshoppers met their end in the process.
Many of my peers were totally overcome with tears and snot was pouring liberally from their noses. Some called out for their mothers. Some hollered unintelligibly. Others, like me, remained voiceless, making no sounds at all. With our minds apparently paralyzed in complete disbelief, we just stood there motionless. Only mouthing repeatedly in the saddest of ways, "Why?"
The caregivers, meanwhile, were doubled over with laughter. Gasping for breath between chuckles, they held their knees, their stomachs, and even leaned against each other in an effort to stay upright. Our deepest trough of sadness was their highest peak of joy.
I am grateful that my parents had the compassion to extract me from that crazy conflict-zone of a creche. Their heartfelt desire for my education was that it help me become someone who truly loved learning. As such, they understood that leaving me at Little Bighorn Nursey School, with daily exposure to a regimen of antagonizing tension, would hardly be conducive to achieving that goal.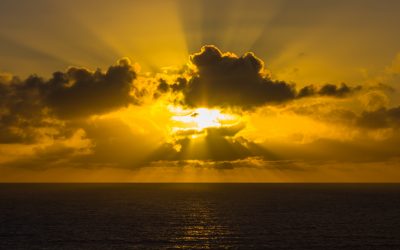 Aside from the title, any writing assignment we did at St. George's College required inclusion of the date and the initialism A.M.D.G. (abbreviation for Ad Majorem Dei Gloriam). The latter was a reminder for us boys. A prompt to help us put into practice a foundational principle of our school community.