Education Interviews – Dzingai Mutumbuka
In my role as Managing Director of the Luminos Fund, I have enjoyed the privilege of interviewing a selection of global education leaders. People with so much to share about education, with particular advice on what education leaders need to be mindful of if they hope to guide their education systems through crisis. 
Learn more about the Luminos Education Leadership Through Crisis series here.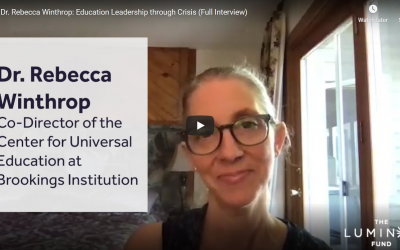 Dr. Rebecca Winthrop is a Senior Fellow and Co-Director of the Center for Universal Education at the Brookings Institution. Her research focuses on education globally, with special attention to the skills young people need to thrive in work, life, and as constructive...